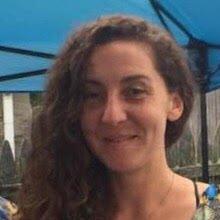 Mareike Sudek
Lead Scientist
Research Coordinator/Research Scientist
National Marine Sanctuary of American Samoa
Tell us about your work/research. What kinds of things do you do?
My position at the Sanctuary enabled me to be involved in a wide variety of research projects as well as outreach and education. So there is always something new to learn and every day is interesting and different. Mostly though I have been focusing on shallow coral reef ecology. I have been involved in various coral monitoring projects and have conducted more than 600 research dives. But being a marine biologist is not just diving. I also spend a lot of time at the computer liaising with other researchers, writing grant proposals, reviewing reports, etc. But my favorite part of the job is participating in research cruises and being out in the field.
What sparked your initial interest in your career?
I was 6 years old when I told my mom for the first time that I wanted to become a marine biologist and that wish never changed. I'm not sure where exactly my love for the ocean originated from because I grew up landlocked. But since I was a child the ocean and its life was fascinating to me. 
Who influenced you or encouraged you the most?
One of my first memories is watching ocean documentaries with my dad. My family has always encouraged and supported me to follow my dream to become a marine biologist even though it meant that I moved very far away from home.
What element of your work/study do you think is the most fascinating?
My most fascinating experiences have been underwater. When you are underwater you are in this completely different environment, floating weightless above the bottom, seeing fascinating marine creatures, and it is so peacefully quiet. 
What other jobs led you to your current career?
Before I moved to American Samoa I worked on Rarotonga (Cook Islands) for a small marine conservation organization called Pacific Islands Conservation Initiative. Then I was hired as a benthic ecologist for the American Samoa Department of Marine and Wildlife Resources/Coral Reef Advisory Group and eventually moved over to the National Marine Sanctuary of American Samoa.
What are your degrees and certifications?
Bachelor of Science in Marine Biology and Zoology - University of Wales, Bangor 2007
PhD in Marine Biology - Victoria University of Wellington in conjunction with the Hawaii Institute of Marine Biology - 2013
Postdoc in coral genetics - Hawaii Institute of Marine Biology - 2013
What are your hobbies?
I like to hike, read and crochet. 
How did you get involved with the Nautilus Exploration Program?
The Sanctuary funded a few cruises on the Nautilus and I was asked to plan the American Samoa Sanctuary part of the cruise.
What advice would you give someone who wants to have a career like yours?
Never give up on your dream even if you encounter challenges along the way. I grew up landlocked in a tiny town in Germany and ended up working as a marine biologist in the South Pacific. Anything is possible if you really want it.