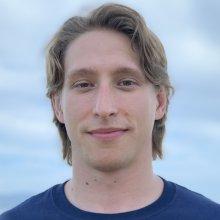 Marc Fortner
Seafloor Mapping Intern
Undergraduate
University of New Brunswick
Tell us about your work/research. What kinds of things do you do?
I'm just starting my specialization in seafloor mapping techniques and technology, so at the moment I mostly try to learn as much as I can about the field. The Nautilus Expedition will actually be my first experience in the field! I will also be working as a research assistant for my professor Dr. Ian Church in the University of New Brunswick's Ocean Mapping Group, so this summer is sure to be an incredible learning opportunity.
What sparked your initial interest in your career?
When I first came to the University of New Brunswick I chose to study Geodesy and Geomatics Engineering (GGE), which is an extremely broad field of study in the spatial sciences. GGE really appeals to people who like to adventure and explore, the possible fields of study range from land surveying to aerial mapping, but I was always most interested in seafloor mapping. There's just something exciting about exploring places in the world that no other person has ever seen, and being at sea is an added bonus!
Who influenced you or encouraged you the most?
My brother graduated from the University of New Brunswick in GGE the same year that I started, so even before I began my education I had been hearing about how cool it was. Once I was in, my professor Dr. Ian Chuch has been instrumental in creating opportunities for me in this field: he encouraged me to apply for Nautilus, offered me employment himself, and taught his course in a way that reinforced my interest.
What element of your work/study do you think is the most fascinating?
I'm sure a number of people consider data processing boring, but one of the most fascinating things I have done so far is examined seafloor mapping data for features like peaks, valleys, and shipwrecks. It feels like looking at a snapshot of another world.
What other jobs led you to your current career?
None! My jobs to date have been mostly related to outdoor recreation and landscaping, and I had devoted myself to athletics for a long time until recently (I used to be a judo athlete). I've always loved the ocean though, being near it and on it - it's a big part of life for a lot of people in maritime Canada. Considering the changes that the oceans (along with the world) will be going through in the future, I started my studies with the goal of putting myself in a position to help meet the challenges we might face. I did study English and creative writing during my athletic career, which has given me an advantage in the communications department. 
What are your degrees and certifications?
Undergraduate Research Assistant for The Ocean Mapping Group
What are your hobbies?
I spend a lot of time reading (great for sea travel) and enjoy training in judo/submission grappling and rock climbing. I also love learning about history.
What advice would you give someone who wants to have a career like yours?
My advice for someone who wants a career in seafloor mapping would be to find someone to learn from; the field is relatively small but full of talented and passionate experts who are excited to share their knowledge and guide your path. If you make it known that you want to be involved in the field, it is extremely likely that your professors/instructors will take an active interest in guiding you along the way.
Expeditions
Marc participated in the following Ocean Exploration Trust expeditions: