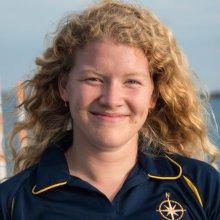 Marah Dahn
Ocean Science/Mapping Intern
Graduate Student
Scripps Institute of Oceanography
Marah Dahn recently graduated from SUNY Geneseo with a B.A. degree in Geophysics and has been accepted to the Geophysics PhD program at Scripps Institution of Oceanography. There she plans to join the Marine Electromagnetism Laboratory, focusing on convergent margin exploration. Marah participated in the Research Experience for Undergraduates program at the Graduate School of Oceanography, University of Rhode Island in the summer of 2013, where she contributed to a tectonic history reconstruction method. Marah also sailed aboard the NOAA Ship Okeanos Explorer in March 2014 as a mapping intern.        
Marah Dahn graduated from SUNY Geneseo in 2014 with a B.A. degree in Geophysics. She plans to continue her education at Scripps Institution of Oceanography in the Geophysics PhD program this coming fall.   
"I get excited about ocean sciences because all the disciplines are deeply intertwined—you can't spot a strange sea creature without thinking about what geology formed that habitat or what chemistry is at play in the water or what current is pushing it along. The oceans are a gargantuan brain-teaser!"  
Expeditions
Marah participated in the following Ocean Exploration Trust expeditions: