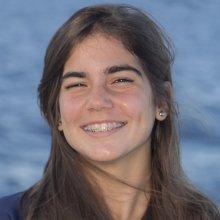 Mar a Gabriela Mongil Lomba
Honors Research Program
High School Student
The Palmas Academy
María Gabriela Mongil Lomba is a junior student at The Palmas Academy, located in the coastal town of Humacao, Puerto Rico. In her school, she is involved in the teams of indoor & outdoor soccer and volleyball. She is also part of various school groups such as: The School Band (trumpet and drums), Red Cross Club and the Underwater Robotics Team. During the past year she has received various awards as a member of the Underwater Robotics Program. Her team, in which she is captain and main mechanic, was awarded 1st place in the Puerto Rico Regional Sea Perch Ranking. Also, they obtained a perfect score in the Sea Perch Design Event against 25 other high school teams. This year, she and her team won a space to represent Puerto Rico in the 2015 National Sea Perch Challenge celebrated at University of Massachusetts, Dartmouth. María Gabriela wishes to pursue a future career in mechanical engineering.
María Gabriela Mongil Lomba will be a senior graduate from The Palmas Academy were she has been studying since the age of 3. She hopes to pursue engineering studies in the University of Puerto Rico, Mayagüez Campus.
"I want to experience every corner of the world, aboard the Nautilus I will have the time to study and learn about the oceans and its unique wonders".
Expeditions
María Gabriela participated in the following Ocean Exploration Trust expeditions: