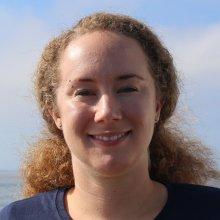 Maggie McCann
Science/Data Team
Intern
Channel Islands National Marine Sanctuary
Tell us about your work / research. What kinds of things do you do?
I am working as a representative for the Channel Islands National Marine Sanctuary, where I am interning as part of my graduate program with California State University Monterey Bay. I work on processing geospatial mapping data, and I also help facilitate and coordinate communications and outreach from the Nautilus. This includes posting updates and data visualizations to social media so that the public can see what is happening with the expedition. I believe that outreach is a vital part of science and that the best part of collecting data is sharing the information and inspiring others to view the marine environment with the same wonder we feel.
What sparked your initial interest in your career?
Ever since I was a child I was fascinated with animals and nature, a passion that was fostered by my parents. In middle school, I saw videos of life from the deep sea, and I was hooked. I decided then and there that I wanted to be a marine biologist. Although my interests drifted a bit in high school, I always remembered that feeling and ended up majoring in marine biology in college. After college, I worked in a science museum, and that is where I developed my passion for education and outreach.
Who influenced you or encouraged you the most?
I have been inspired by countless people throughout my career. My parents always supported me and encouraged me to work hard and have faith in my own abilities, and provided me with opportunities to explore my interests and take risks. I will always be grateful for the camping trips, the tide-pooling, and the plethora of science books I had growing up. In every job, internship, and academic program, I have found dedicated and inspirational people who love science and the ocean. I consistently find myself surrounded by intimidatingly hard-working and brilliant peers, and I wouldn't have it any other way.
What element of your work / study do you think is the most fascinating?
I love communicating about science with the public. Exploring the deep sea is exciting and incredible, and I feel lucky to be able to share that experience with others. Additionally, I have enjoyed learning to use geospatial technology, the software, and equipment that allows us to map out the seafloor, share our findings, and make visualizations.
What other jobs led you to your current career?
I've been fortunate to have many internships and jobs that have allowed me to explore the field of marine biology and science education, and which has ultimately led to my current graduate program and internship. In college, I had one internship where I studied intertidal communities and learned about the complex patterns that govern the life of tide pools. In my next internship, I worked with marine mammals in a physiology lab, where I fostered my love for dolphins and otters. I came to realize the importance of maintaining healthy functioning marine ecosystems, so large marine mammals can have enough food in their natural habitats. After I graduated, I worked as a research associate at a marine toxicology lab, studying the effect of oil dispersants, agricultural runoff, and other pollution on aquatic life. After that, I worked for five years as an exhibit technician for the Exploratorium, a hands-on science museum in San Francisco. The work and the community of the museum instilled in me an appreciation for the power of science outreach and education. I have had other odd jobs in the years as well: I briefly worked as a naturalist on a whale watching boat, and I have been a teaching associate for the last year while in school.
What are your degrees and certifications?
Bachelor of Science in Marine Biology – University of California, Santa Cruz; currently working on a Master of Science in Applied Marine and Watershed Sciences – California State University, Monterey Bay.
What are your hobbies?
I love being in nature and especially backpacking, hiking, and camping. I also enjoy gardening, reading, baking, and tabletop games. 
What advice would you give someone who wants to have a career like yours?
Make your own luck! The more you involve yourself in the field that inspires you, the more opportunities will present themselves. The best thing I ever did was to intern while in school; the skills and connections I made have helped me tremendously in my career. Ask questions, and ask to take part. There are will always be a place for anyone who is friendly, passionate, and hard working.  
How did you get involved with the Nautilus Exploration Program? How did you get on the ship?
I am in an Applied Marine and Watershed Sciences master's program at California State University, Monterey Bay, and a central part of that program is a summer internship. I applied to an internship with Channel Islands National Marine Sanctuary and was thrilled to be selected. My internship involves outreach for the Nautilus both on shore and on the ship, so I get to spend 10 days on board.