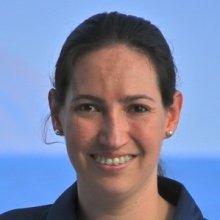 Luisa Due as
Data Logger
Marine Biologist, Universidad de los Andes
Luisa Duenas works as a data logger onboard E/V Nautilus.
Luisa is a doctoral student at the at the Universidad de los Andes (Bogotá, Colombia), associated with the Marine Molecular Biology Lab-BIOMMAR (http://biommar.uniandes.edu.co) and the Group of Computational and Evolutionary Biology-BCE (http://bce.uniandes.edu.co). Luisa is working with deep-sea bamboo corals and primnoids particularly from New Zealand, Antarctica and Tasmania. Her work focuses on taxonomy, molecular systematics, character evolution, phylogeography and phylogenomics of these conspicuous deep-sea octocorals. 
Luisa graduated from the
Pontificia Universidad Javeriana
(Bogotá, Colombia) in 2005 with a degree in Biology, and completed her Masters in Biological Sciences at the
Universidad de los Andes
(Bogotá, Colombia) in 2009.