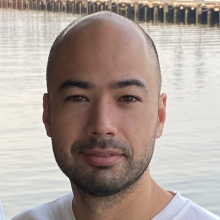 Lui Kawasumi
AUV specialist
Graduate Student
Boston University
Tell us about your work/research. What kinds of things do you do?
I am a prototype engineer. I'm originally a furniture maker, then I used to build interactive technologies in the art world, and now I am a graduate student at Boston University in Mechanical Engineering, and I develop instruments for oceanography. It's a wayward path but making things has been the continuous thread throughout my work.
What sparked your initial interest in your career?
Well, I've shifted careers a bit, but a major spark for me was taking on an internship in NYC making interactive technologies and experiences. I loved learning and doing that kind of prototyping work, and because of that I was quite good at it and my internship became a 6-year job. From that, I realized I want to go back to school for engineering so that I could apply those skills not just in the art world, but also for scientific causes.
Who influenced you or encouraged you the most?
My former employer James Patten from Patten Studio. He was very much a mentor to me, and he invested, I would argue, an unreasonable amount of his time to teach me electronics and software.
What element of your work/study do you think is the most fascinating?
I prototyped a low-cost deep sea drop camera for the Open Ocean Initiative at MIT Media Lab, almost entirely in my bedroom due to the pandemic. What I liked about that is that it gave me a pretty good reason to invest in a lot of great toys, err tools, and I've been able to work in a way where I can build, test, and revise very quickly. With a setup like that, there is a lot of immediate satisfaction in seeing the work progress and the design improvements.
What other jobs led you to your current career?
All jobs I've ever had were focused on building things. My first job out of art school was designing chandeliers for a Czech glass works company. Then I was the design engineer in NYC at Patten Studio building interactive experiences.
What are your degrees and certifications?
Bachelor of Fine Arts in Furniture Design from Rhode Island School of Design, 2011; Currently in the master program at Boston University for Mechanical Engineering; PADI Advanced Open Water.
What are your hobbies?
I love biking and climbing, I do that every week. I'm still new to scuba diving, but I hope to be doing a lot more of that. And I play Dungeons and Dragons. My DnD character is an alchemist that specializes in explosive concoctions.
How did you get involved with the Ocean Exploration Trust?
Through the camera project with Open Ocean Initiative, I've gotten to know Dr. Allan Adams, and I've had the pleasure of working with him on the eDNA sampler. I'm part of the expedition team as a technician to make sure we have an as smooth as possible technical demonstration of the sampler.
What advice would you give someone who wants to have a career like yours?
Personally, I think it is valuable to think in terms of fields and grand ideas rather than specific careers. For example, suppose you want to be an astronaut. Exceedingly few people become astronauts, but lots of people work at NASA and support those astronauts. So do you want to be an astronaut and nothing else? Or do you love space and everything about space and just want to be part of this grand endeavor?
Expeditions
Lui participated in the following Ocean Exploration Trust expeditions: