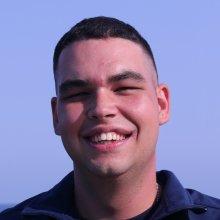 Loren Springer
Science/Data Team
Survey Watchstander/Workcenter Supervisor
Naval Oceanographic Office
Tell us about your work / research. What kinds of things do you do?
I participate in bathymetric surveys on assigned oceanographic vessels deployed around the world. Duties typically include multibeam sonar data processing, collecting oceanographic data using CTDs and XBTs, deployment and recovery of survey equipment such as ocean gliders, and monitoring survey systems on board. Previously I spent nine years as a meteorologist providing support to various Navy commands and ships, as well as time as a meteorology instructor specializing in teaching the forecasting of atmospheric effects on electromagnetic radiation.
What sparked your initial interest in your career?
I wanted to be a meteorologist since I was a small child. I felt the call to service while in high school and became a meteorologist in the US Navy.
Who influenced you or encouraged you the most?
Senior Chief Dee is my biggest professional influence on my career and is my mentor. Most things I learned about being a meteorologist came from him.
What element of your work / study do you think is the most fascinating?
I have recently completed Unmanned Maritime Systems Tier 1 training course at the University of Southern Mississippi, leading to a building interest in the operation of AUV's within the Navy's fleet.
What other jobs led you to your current career?
My only other job was working at a pet store before I joined the Navy. I signed up for the Navy while still in high school.
What are your degrees and certifications?
Aerographer's Mate A School 2006 - Center for Naval Aviation Technical Training Unit (CNATTU) Keesler AFB; Aerographer's C School - CNATTU Keesler AFB 2009; Naval Instructor Training Course - Center for Personal and Professional Development Dam Neck2012; and Unmanned Maritime Systems Tier 1 - University of Southern Mississippi 2017.
What are your hobbies?
I enjoy playing guitar, painting and tinkering with electronics.
What advice would you give to someone who wants to have a career like yours?
Learn the basics of meteorology and oceanographic before arriving at boot camp to get a head start on your naval career.