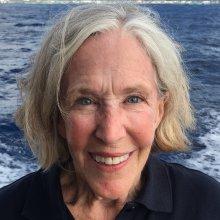 Lonnie Schorer
Science/Data Team, Communications
Architect, Author, Expedition Archaeologist
Air Sea Heritage Foundation
Tell us about your work/research. What kinds of things do you do?
As a Russian specialist, I worked for the US Government and, with my husband and 3 children, for 20+ years living in Bangkok, Moscow, Leningrad, Istanbul, Rome, and Oslo before returning to Virginia Tech grad school to become an architect. I enjoy visionary projects, one of which was as head of design and construction for a 43,000-ton new concept community-at-sea ship, The World of ResidenSea, constructed in Rissa, Norway. As a single engine and float plane private pilot, I became interested in Amelia Earhart and have served as an archaeologist on the TIGHAR team during 5 trips to the Central Pacific. Subsequently, I was asked by Air Sea Heritage Foundation to undertake contracts with NOAA's Office of Maritime Heritage and worked on locating the USN aircraft carrier USS Lexington, documenting the aircraft carrier dirigible USS Macon, and researching several other lost US ships and planes, such as the Samoan Clipper. Fascinated by the power of the human spirit to overcome challenges, I worked as staff at both the Lillehammer and Atlanta Olympics and Paralympic Games. As head of the Kids to Space project, I have worked in classrooms and workshops to motivate students to reach beyond and not give up on their dreams. This project led to the publication of three books and various articles for other publications. I have been a member of The Explorers Club since 1997 and, as chair of an international Explorers Club Lowell Thomas event in October 2019, encourage scientific research and exploration. In May 2019, I will complete a 6-year term on the Alumni Board of Connecticut College in New London. Life is filled with opportunities, and I can't wait to see what's ahead!
What sparked your initial interest in your career?
Living in Istanbul, Turkey as a 17-year-old American Field Service exchange student opened my eyes to different cultures, religions, and ways of doing things. The spark of curiosity was set ablaze. At the time of the Cuban Missile Crisis, my sense of patriotism led me to work for Uncle Sam. As my father's family were all builders and my mother's family were all artists, architecture was the natural melding of the two, and when doors opened for women in science and engineering, I rushed through to get my grad degree in architecture and have savored every creative minute of that journey. Living abroad and raising a family in the midst of terrorist threats and economic deprivations, led to a certain resilience of mind - after which, exploration became the natural antidote to homebound everydayness. I feel as though I have multiple careers, all overlapping and enhancing the other in a giant tapestry of opportunity and experiences. 
Who influenced you or encouraged you the most?
My uncle Deane Keller, an art professor at Yale who was a decorated Monuments Man in Italy during WWII, had a lasting effect upon my thinking. His humility, sense of duty, and dedication to the union-inspired me and affected my choices in life. 
What element of your work/study do you think is the most fascinating?
Going to the archives to research something one knows almost nothing about - can be a bit monotonous - UNTIL, one discovers the missing piece of the puzzle. How did I get to hold this historic piece of paper in my hands?! One wants to jump up and shout in this monitored, quietest of quiet places. To be at the beginning of a project, and then to see it through its various stages - that is fascinating stuff. 
What other jobs led you to your current career?
As a writer, researcher, government worker, architect, explorer, parachutist, pilot, archaeologist, entrepreneur, swimming school director, Cub Scout den mother, pet owner, pie business baker, marathon runner, kayak club organizer, Explorers Club chair, college board member, DAR member, sister, wife and mom, all the jobs piled on top of the other and led to everything else that I must have said Yes to doing. I'm never sure which career is actually the current one.
What are your degrees and certifications?
Bachelor of Art in Russian Studies - Connecticut College
Master of Architecture - Virginia Tech
MAHS/Maritime Archaeological and Historical Society course
What are your hobbies?
I love ice skating with my friend, around and around the rink during winter. Add, skiing and snowshoeing. I love kayaking, biking, and hiking in the summer and don't mind tipping over on our Sunfish. I love any activity with my son and two daughters, their spouses, and four grandsons. Sitting in a chair outside to read a book is also tops on the list. 
How did you get involved with the Nautilus Exploration Program?
With Russ Matthews and the Air Sea Heritage Foundation, I have been working on the Samoan Clipper project since 2014. I never thought I would actually have the opportunity to be on the Nautilus. I am thrilled, beyond measure. 
What advice would you give someone who wants to have a career like yours?
Take advantage of opportunities that are offered, even if they don't seem to align with your interests at the time. One door always opens another and leads to unimaginable destinations. If you don't walk through the first door, you'll never know what life-changing, life-enhancing opportunities await along the way.
Expeditions
Lonnie participated in the following Ocean Exploration Trust expeditions: