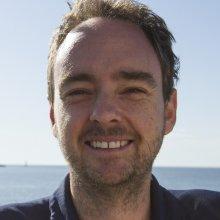 Lloyd Godson
Science Communication Fellow
Owner
Tik and Bubbles
Lloyd Godson is an ambassador for ocean exploration committed to encouraging more young Australians to undertake STEM (science, technology, engineering and maths) studies and careers. He loves to live his wild ideas by putting them to the test in the real world, sharing the excitement of exploration and adventure with students and public audiences around the world. He has spent a total of one month living underwater, propelled himself through the Greek islands in a human-powered submarine and holds the Guinness World Records for the most electricity generated by pedalling underwater. In 2007, Lloyd received the coveted Australian Geographic Adventurer of the Year award. In 2013, he launched a new educational initiative called 'Tik and Bubbles' which designs community-based science projects that are creative, collaborative, challenging and fun.
Lloyd Godson graduated from the University of Queensland, including a semester abroad at the University of British Columbia, in 2000 with a degree in marine science (honours). He then completed a Graduate Certificate in Antarctic Studies at the University of Canterbury. He is currently studying a Bachelor of Education at Charles Sturt University.
"I am committed to encouraging more young people to undertake STEM studies, so it was a dream come true when I found out I had been selected for a Science Communication Fellowship. I followed Dr. Ballard's adventures when I was in school, so I'm absolutely thrilled to be joining his Nautilus Corps of Exploration this season so I can share my experience with the next generation of explorers." 
Expeditions
Lloyd participated in the following Ocean Exploration Trust expeditions: