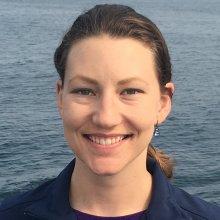 Lizzie Duncan
Scientist Ashore
Research Ecologist
Channel Islands National Marine Sanctuary
Tell us about your work / research. What kinds of things do you do?
In addition to being a part of the larger research team at the Channel Islands sanctuary, which broadly aims to understand and monitor resources at our site, I'm evaluating a number of data sources that will eventually be used to characterize visitor use of the sanctuary, and coordinating the West Coast Deep-Sea Coral Initiative (2018-2021). Sanctuaries provide a number of services to stakeholders, from aesthetics to income, and I'm part of a team that's quantifying how those services change over space and time to provide a better understanding of the value of sanctuaries. We're answering questions like: How many people visit? Where do they go when they visit, and what activities do they partake in (kayaking, fishing, diving, whale watching, etc.)? Once we have this baseline understanding of visitation, we can identify potential areas that would be most vulnerable to events such as oil spills, for example, which will set up the sanctuary for a better, more informed response. Sanctuaries are also home to a diversity of deep-sea coral and sponge habitats, and since 2018, West Coast sanctuaries have been partnering with other offices and agencies, like the National Marine Fisheries Service, as a part of the West Coast Deep-Sea Coral Initiative. Another part of my job is to facilitate the deep-sea related field work, research projects, budgets, data analysis, and publications which are a direct result of a large number of partners working together to pool resources, research priorities, and expertise. Although I didn't have much of a deep-sea background when I began this work, I've learned so much from a number of the amazing scientists in this field, many of which are participating as watch leads this year on the Nautilus! It certainly takes a village to study some of the most remote habitats on our planet.

What sparked your initial interest in your career?
I knew I wanted to be a marine biologist at a young age. Growing up in inland California, the highlight of my entire year was visiting the beach on vacation with my family. So, it only made sense to me to major in Marine Biology as an undergraduate at Long Beach State. From there, the hands-on learning and field trips in my major courses only fueled my passion, leading me to volunteer in multiple research labs, and take jobs/internships that also got me interested in the policy side of marine science. I first dipped my toe into the deep end of the proverbial policy and science pool as a California State Sea Grant Fellow at the Channel Islands National Marine Sanctuary. I'm now work full time for the sanctuary and am continuing the projects I started there as a fellow. I believe I ended up in the wonderful position I am now because I pursued the things that interested me and made me the most excited in school.
Who influenced you or encouraged you the most?
My undergraduate professors, particularly those whose labs I volunteered in, were all very engaging and encouraging. A lot of cool opportunities came out of being a volunteer for various research labs, all of which helped me gain experiences relevant to graduate school and beyond - like my first time on a plane, ever, was when I was 23 and had volunteered to survey black abalone on San Nicolas Island!
What element of your work / study do you think is the most fascinating?
Well, particularly relevant to this mission, I think the coolest projects I've been involved with have stemmed from coordinating the West Coast Deep-Sea Coral Initiative. I've participated in 4+ expeditions that used ROVs to explore the deep-sea in search of corals and sponges. It's so exciting to think that you're seeing that small part of the seafloor first, before anyone else, and who knows what you might come across!
What other jobs led you to your current career?
As an undergrad, I managed data, tutored biology, coordinated education and outreach efforts for a local restoration program, and was a research assistant for a few labs at my university. As a first generation college student, working these various jobs helped me obtain real world skills in data management, statistics, lab work, and field work. I struggled at first, but they ultimately helped me gain the confidence I needed to apply to graduate school and pursue a Masters in biology. As much as I was interested in research itself (I studied black abalone in the beautiful rocky intertidal), I was also curious how research findings were then applied by government agencies. If science is telling us something about how nature works - who takes that information and uses it to create laws and regulations? This sparked my interest in the California Sea Grant State Fellowship program which is designed to take recent grads with mostly academic backgrounds and give them hands-on experience with different host agencies - like the Channel Islands sanctuary, where I ended up as a fellow. From there I became a contractor for the sanctuary's research department, and now I'm a full-time government employee.
What are your degrees and certifications?
Bachelor of Science in Marine Biology - Cal State Long Beach 2012; Master of Science degree in Biology - Cal State Long Beach 2017
What are your hobbies?
I like painting, gardening, running, scuba diving, and cooking - there's nothing better than a perfectly baked, gooey chocolate chip cookie and I think I've finally perfected the art.
What advice would you give to someone who wants to have a career like yours?
If you want to work in the realm of marine biology/oceanography, I'd say find opportunities to sharpen your quantitative skills - even if it's painful. It'll make you more competitive for schools, internships, fellowships, and jobs because statistics are critical in telling a compelling story and making decisions.
How did you get involved with the Nautilus Exploration Program? How did you get on the ship?
OET and National Marine Sanctuaries have been collaborating for several years to explore the deep-sea within sanctuaries as well as provide education and outreach opportunities via telepresence - effectively bringing these remote ecosystems to the public, in real time! I feel very lucky to be a participating lead scientist for the Channel Islands portion.