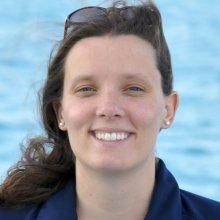 Liz Smith
Communications/Medical
Director of Communications / Medical Coordinator
Ocean Exploration Trust
Liz Smith has spent more than 10 years working in the field of science communications. She has worked as a communications director aboard research vessels in the Pacific Ocean, the Caribbean Sea and the Mediterranean Sea; and has sailed on expeditions to study coral reefs, explore ancient Greek and Roman shipwrecks and search for Amelia Earhart's lost plane.

Prior to working in ocean exploration, Liz produced films and multimedia about astrophysics and earth science for NASA at the Goddard Space Flight Center. She has also produced documentary work for the National Park Service and worked as a science reporter for NBC. Liz is a member of the flying Ninety-Nines and MENSA; and is currently on the Fulbright Specialists Roster. She's a certified Advanced Scuba Diver, single-engine Private Pilot and Wilderness EMT.
Liz graduated from Whitman College in 2002 with an undergraduate degree in Astronomy. She completed her Master of Fine Arts in Science and Natural History Filmmaking at Montana State University in 2007. She also recently completed the Wilderness Emergency Medical Technician course at the Wilderness Medicine Institute of NOLS in Lander, Wyoming. In addition to directing communications for EV Nautilus and Ocean Exploration Trust, Liz is also the medical coordinator and risk manager for the Ocean Exploration Trust.
Expeditions
Liz participated in the following Ocean Exploration Trust expeditions: