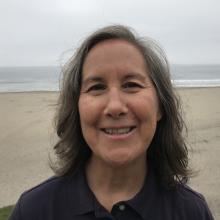 Lisa Wooninck
Scientist Ashore
Policy Coordinator
Office of National Marine Sanctuaries - West Coast Region
Tell us about your work/research. What kinds of things do you do?
As policy coordinator for the West Coast Region of NOAA's Office of National Marine Sanctuaries I represent five sanctuaries on the west coast. My responsibilities include providing policy and planning advice, and coordinating with conservation and user groups, and state and federal partners to develop integrated ecosystem-based management approaches and ecologically and economically sustainable practices for the marine environment. One project includes working with the Northern Chumash Tribal Council on their nomination for a Chumash Heritage National Marine Sanctuary, located from Morro Bay to the Santa Lucia Bank.
What sparked your initial interest in your career?
I started out as a marine biology graduate student with a specialization in fish reproductive behavior using molecular genetic techniques. Doing my field work I witnessed first-hand the degradation of the marine environment from overfishing and pollution, and a desire grew to address these problems. I was lucky to secure a fellowship working on Capitol Hill for an ocean champion, Congressman Sam Farr, where I learned the process of incorporating science into policy decisions. From there I started working for the National Oceanic and Atmospheric Administration (NOAA), first for the National Marine Fisheries Service as a fishery biologist and then for the Office of National Marine Sanctuaries as resource protection specialist and now as policy coordinator.
Who influenced you or encouraged you the most?
I have had so many wonderful mentors along the way, from my first teacher in marine biology at a community college to the chief of staff of Congressman Farr. In each phase of my career I have been able to follow my passion and have the sense that what I do matters. The Office of Marine Sanctuaries has a meaningful mission focused on marine conservation, many passionate and skilled staff, and countless community supporters and partners.
What element of your work/study do you think is the most fascinating?
I look forward to being a scientist ashore via the Nautilus technologies, and exploring the deepest ocean without getting wet or sea-sick. I was lucky as a fishery biologist more than a decade ago to go down to 400 meters in the yellow Delta submersible, not far from where we will be exploring in October 2020. It was thrilling to see the amazing biodiversity, and 'otherworldly' beauty of our oceans.
What other jobs led you to your current career?
I've been a deckhand and cook on several research vessels, been a field biologist for a handful of fishery surveys, and been a fellow at the Smithsonian Zoo in Washington D.C. I recently, served as acting superintendent of Gray's Reef National Marine Sanctuary and thoroughly loved living in Savannah, GA and visiting a completely different marine ecosystem in the Southeast Atlantic.
What are your degrees and certifications?
Bachelor and Master degree in Marine Sciences from Cal State Northridge, and a Phd from UC Santa Barbara in Marine Ecology and Evolutionary Biology.
What are your hobbies?
Learning how to play the ukelele for fun; practicing yoga and meditation to be more mindful; loving life with my kids, husband and dogs. Traveling when I can - the world is a fascinating place.
What advice would you give someone who wants to have a career like yours?
Follow your passion, get out there and intern or volunteer for a day, week, month. or so, to see if this is for you. It's not all academics, you need to know how to function as a team member. From there, build your network, follow your dreams, and have fun!
How did you get involved with the Ocean Exploration Trust?
The Office of National Marine Sanctuaries has a cooperative agreement and long-standing partnership with the Ocean Exploration Trust. I volunteered to help lead the Santa Lucia Bank portion of the expedition as I have been the lead coordinator for the Chumash Heritage National Marine Sanctuary nomination - located in the area of the Santa Lucia Bank.