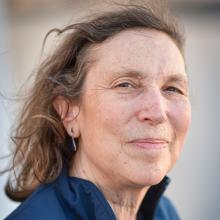 Lisa Levin
Science/Data Team
Professor
UC San Diego, Scripps Institution of Oceanography
Tell us about your work/research. What kinds of things do you do?
I am a deep-sea biologist, studying biodiversity and ecosystem function on continental margins and seamounts. Specific habitats of interest are methane seeps and oxygen minimum zones. Themes of interest include human disturbance (e.g., seabed mining) and the influence of environmental and climate change on deep-sea ecosystems. I also devote time to bringing scientific knowledge to deep-sea management and policy through the Deep Ocean Stewardship Initiative and the Deep Ocean Observing.
What sparked your initial interest in your career?
My interest in marine science began in high school with an immersive summer program at Humboldt State University. My interest in deep-sea science emerged with the discovery of hydrothermal vents in the mid 1970s and a terrific Deep Sea Biology instructor (Bob Hessler) in graduate school.
Who influenced you or encouraged you the most?
From biology teachers in high school through great mentors in college and graduate school, and a supportive spouse I have had encouragement and help throughout my life.
What element of your work/study do you think is the most fascinating?
The best part of my work is conducting research and collaborating in different oceans with scientists around the world.
What other jobs led you to your current career?
Other Jobs - Environmental Consultant (after college); co lead of the Deep-Ocean Stewardship Initiative, co lead of the Deep Ocean Observing Strategy
What are your degrees and certifications?
BA Biology Harvard University; PhD Oceanography UC San Diego
What are your hobbies?
Science Diplomacy, reading, all things dog
What advice would you give someone who wants to have a career like yours?
Find your passion and once you do - be persistent, don't give up. Also know that there is no perfect single path in life but many great options. Find one that works for you and those you interact with. Then make the most of it, and re-shape it into your dream job. Recognize that your needs and interests will evolve over time.
 
How did you get involved with the Ocean Exploration Trust?
OET is providing the vessel and facilities, communications, and more for our NOAA OER-sponsored research.