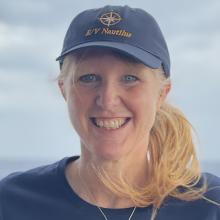 Lisa Ball
Science Communication Fellow
High School Teacher
Lawrence High School
Tell us about your work/research. What kinds of things do you do?
I have taught secondary science for seventeen years. Classes I teach include Advanced Biology, AP Environmental Science, and Ecology & Environmental Science. I also sponsor the school's Environmental Club.
What sparked your interest in your current career?
I sprouted my first seeds from a grapefruit I was eating while watching Captain Kangaroo's lesson on plants and seeds. Those two trees produce bushels of fruit every year at my parent's house in Texas. I have always loved science and the outdoors but especially animals. I found a special passion for birds and ended up doing my master's research in tropical bird conservation. However, my love of teaching was just as strong, so I balance teaching with science field experiences as often as possible.
Who influenced you or encouraged you the most?
My undergraduate advisor, Dr. Leo Finkenbinder, took me to the tropics for the first time when I was just a college freshman and sparked my love of travel and science adventures. He also gave me the opportunity to start teaching a lab when I was just a sophomore in college. I was able to explore both field science and teaching and I knew I wanted to do both! Dr. Finkenbinder still cheers me on today!
What element of your work/study do you think is the most fascinating?
I have taken five student groups to Costa Rica for educational travel adventure trips. I know that those trips were life-changing for some of the students, just as my first trip to the tropics was for me. I have also been fortunate to get to participate in several incredible professional development opportunities, including two teacher research expeditions with EarthWatch, a trip to the Galapagos with Toyota International Teacher Program, and a wildlife conservation program with the San Diego Zoo. These experiences have allowed me to bring real-life science back to my classroom and have allowed me to network with incredible teachers and scientists from around the world.
What other jobs led you to your current career?
I started teaching as a TA during my sophomore year of college, got my teaching license, and taught through graduate school. I was able to work on several bird studies, through the George Sutton Avian Research Center and the Nature Conservancy of Texas. I studied in Costa Rica for a semester and did my research in the mountains of Oaxaca, Mexico. I thought I was going to teach at the college level do avian research, but got discouraged by the limited opportunities in the field. After I finished my master's degree I worked as a GIS specialist in an environmental consulting firm. But when my son was born, I knew my teacher's heart was not really in the cubicle life, and I returned to teaching part-time as a university adjunct, and then to secondary education full-time when my son was two years old. I love to enrich my teaching by staying active in field science opportunities.
What are your degrees and certifications?
B.S. in Biology--Southern Nazarene University, 1993; M.A. in Ecology & Evolutionary Biology--University of Kansas, 1999, certified in First Aid and CPR.
What are your hobbies?
I love long-distance trail running, entertaining my three cats, cooking plant-based meals, and coffee shop meetups with friends.
How did you get involved with the Ocean Exploration Trust?
I first got to hear Dr. Ballard speak when he was part of the JASON project, early in my teaching career. I was awestruck by the work he was doing as I have always had a fascination for the deep sea. Last year, Dr Ballard was visiting my hometown and I was able to arrange for him to come to my high school to speak. It was a phenomenal and inspirational experience for me and for my students! At that point, I knew I wanted to apply to get more involved with the OET program and I decided to apply for the Science Communication Fellowship.
What advice would you give someone who wants to have a career like yours?
I encourage anyone who is interested in teaching science to go out and DO science before taking a teaching job. I think it is really helpful to get a graduate degree in the field of science rather than education, as it can potentially open more doors and it allowed me to get to practice research science. I have a wonderful network of scientists, mentors, and educators that I can draw from and I have many stories of science adventure to keep students entertained. Students can tell when you are truly passionate about what you do!
Expeditions
Lisa participated in the following Ocean Exploration Trust expeditions: