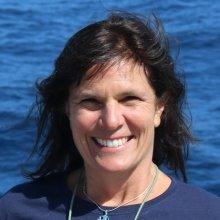 Laura Francis
Scientist Ashore
Education Coordinator
Channel Islands National Marine Sanctuary
Tell us about your work / research. What kinds of things do you do?
I am education and outreach coordinator at Channel Islands National Marine Sanctuary and have worked in the fields of both ocean science and education. For my master's degree at UC Santa Barbara, I studied deep-sea crabs that live in hydrothermal vents and how they have adapted to live in high sulfide and low oxygen environments. At the sanctuary, I lead a variety of projects and programs including science workshops for teachers and creating multimedia education and outreach materials designed to increase ocean awareness and stewardship. Recently, I developed regional and national education and communication strategies and resources on the topic of ocean acidification.
What sparked your initial interest in your career?
When I was in sixth grade, my teacher took our class out to Santa Cruz Island for a camping trip. This was my first time on a boat and even though I got very seasick, I fell in love with the ocean on that trip. When divers on the boat brought up a shark egg case with a baby shark in it, I was captivated, and in that moment I knew I wanted to be a marine biologist when I grew up. After that trip, we then moved all over the country from Missouri to Wisconsin and Northern California, but I kept thinking back to that moment in the Channel Islands when my curiosity about the ocean was ignited. I studied zoology in college and went to Australia for a year abroad and did a project on Heron Island on the Great Barrier Reef. I love that we can thank the ocean for every other breath we take and that we are all interconnected by one global ocean life support system.
Who influenced you or encouraged you the most?
I think that my 6th-grade teacher really sparked that first interest and then the wonderful colleagues and mentors along the way encouraged me to volunteer and intern in the field which turned to a great career at the sanctuary. I love being on and in the ocean as much as possible.
What element of your work / study do you think is the most fascinating?
I have been down to 9,000 feet in the ocean to the hydrothermal vents in the Alvin submersible in graduate school. That was amazing. I also had the opportunity to be in the water with a blue whale while working on a film project with a whale researcher. That was also an incredible experience as the whale was as big as a submarine and swam right underneath us!
What other jobs led you to your current career?
I worked as an intern inventorying and monitoring marine invertebrates on the Oregon Coast, an instructor at a marine science and summer camp on Catalina Island, a biologist monitoring kelp forests in the Channel Islands and a middle and high school biology and marine biology teacher. Just after graduate school, I taught at the school my 6th-grade teacher founded so I was able to thank him for inspiring me and teach at the school where he is currently the headmaster!
What are your degrees and certifications?
Bachelor of Arts in Zoology, University of California Berkeley - 1989
Master of Science, University of California Santa Barbara -1993
What are your hobbies?
I love hot yoga, stand up paddleboarding, walking on the beach, searching for sea glass and making jewelry
What advice would you give to someone who wants to have a career like yours?
If you are interested in marine biology and marine education, you should talk to as many people in the field as you can to get an idea of what their day to day job is like. Also, apply for volunteer and internship positions and dive in with all of your passion and creativity. I think that developing great communication skills both in writing and speaking and also photography, graphic design and web/social media are also key to success in getting a great position in this field that you will love.