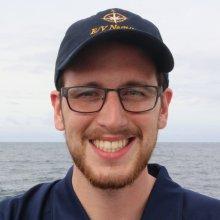 Kyle Sidlik
Video Engineering Intern
Video Editor
University of Rhode Island
Tell us about your work / research. What kind of things do you do?
I am a filmmaker. I enjoy learning different and creative ways to tell stories. I work at the Inner Space Center at the University of Rhode Island, were I help with the day to day operations as well as make short videos for their Youtube channel. I've also been on two cruises with the R/V Endeavor, as a Telepresence technician and documentarian. 
What sparked your initial interest in your career?
I knew I wanted to pursue filmmaking when I took an audio and visual class at the Community College of Rhode Island (CCRI). The material came to me easily and I was itching for more than what was provided to me at CCRI. Then in 2013, I enrolled at the University of Rhode Island's Film/Media program, where I was introduced to advanced equipment and a broad array classes. 
Who influenced you or encouraged you the most?
My film production professor, Keith Brown, is the best mentor that I have encountered in my entire educational career. He's not only taught me how to work in the professional field, but how to do it in a confident and skillful manner. 
What element of your work / study do you think is the most fascinating?
The utmost fascinating thing about the work I do is the spontaneous nature of the day to day job. It's never the same day twice, and I never know where I will be sent. From logging Beta tapes from a ROV dive of a sunken ship that was part of the Battle of Midway, to the middle of the ocean shooting live launches of sediment trap arrays for scientist to watch back on land.  
What other jobs led you to your current career?
All of the jobs that have helped me narrow my focus into the type of career that I want. First getting an on campus job at the Digital Production Resource Center, where I provided various types of video media for teachers. Interning at Rule Boston Camera, were I learned to check the quality of rentals that were returned from customers. Also, having skills and interest that co-inside with my career, such as; photography, Film festivals, Tech conventions, writing, carpentry, have all led me into a career that I can pursue. 
What are your degrees and certifications?
Bachelor of Arts and Sciences Film/ New Media - University of Rhode Island 2015.
What are your hobbies?
I enjoy hiking, camping, and cooking different types of Italian food. I'm currently building a small aquaponics system. 
What advice would you give to someone who wants to have a career like yours?
To know what your skills are and to apply them to different aspects of filmmaking can open new doors to different career paths that one might not known of. If understanding computers is a one of your skills, then look into editing or 3D design. If you have an interest in nature then look into documentary filmmaking. If having a visual mind is a strong skill, then look into cinematography or set design. Knowing your skills and interest, will help you understand what you can achieve and how to succeed. 
How did you get involved in the Nautilus Exploration Program? How did you get on the ship?
I found out about Nautilus and OET program through Facebook three years ago and have wanted to be a video intern ever since. 
Expeditions
Kyle participated in the following Ocean Exploration Trust expeditions: