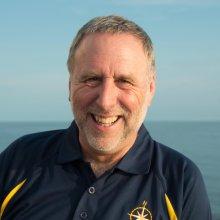 Kirk Wolfinger
Director
Director
Lone Wolf Media
Kirk Wolfinger has worked in the film industry for 28 years during which time he has produced and directed numerous critically acclaimed, award winning, documentary programs presented nationally and internationally on major networks and the leading cable outlets.
In 2009 he released his 90 minute independent feature documentary The Rivals. It's the tells the story of two towns in Maine, one wealthy, one poor and their high school football competition where the game of winning in life becomes the real lesson on and off the field. The Rivals has taken home Best Picture (Phoenix Film Festival) Best Documentary (Los Angles Real Film Festival) Audience Award (Wood's Hole Film Festival) and a Silver Chris (Columbus Film Festival) as well as a host of Official Entries in festivals across the country. The film was purchased by Smithsonian Network and premiered in September of 2010.
Most recent television work includes Specials in 2009 for NOVA, Killer Sub in Pearl Harbor History Channel, Underwater Universe and National Geographic Channel, Living on the Moon ..Past successes include Executive Producing and Directing 35, 1X60 episodes of The History Channel's Deep Sea Detectives and several Episodes of History's Tougher In Alaska a two hour special for THC, Titanic's Achilles Heel, a sequel to the history changing documentary Titanic's Final Moment's: Missing Pieces. Other recent broadcast credits include a two hour History Channel special based on Gene Krantz' book Failure Is Not An Option, and a sequel to that production titled Beyond the Moon. Other Lone Wolf productions led by Wolfinger include the NOVA programs Pocahontas Revealed, To The Moon and Hitler's Lost Sub, the latter of which became the inspiration for the bestseller Shadow Divers. Also of note were the productions Ravens: Covert War In Laos for Discovery Times, and Mayday: Lost At Sea and Pearl Harbor: Legacy of Attack for National Geographic Specials.
Lone Wolf was founded in 1997 by Kirk and Lisa Wolfinger. Over the past 14 years they have assembled a team of talented professionals who have a passion for filmmaking and a desire to live and work in a place that sustains that desire. No film Kirk has made gives him as much satisfaction as the Company he and Lisa helped to create.