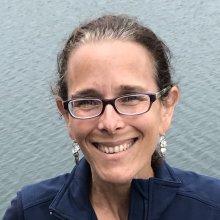 Kim Moore
Nautilus Ambassador
STEM/Advanced Academics Coordinator
West Oso ISD
Tell us about your work/research. What kinds of things do you do?
My current job as STEM/Advanced Academics Coordinator at West Oso ISD allows me to work with students in grades K-12 as well as supporting the STEM teachers in the district. I support our STEM lab activities, Project Lead the Way Pre K-12 implementation, our Robotics activities, Science Fair, and other programming that exposes students to STEM College and Career pathways.
What sparked your initial interest in your career?
I have loved teaching and learning for as long as I can remember. My career has allowed me to utilize and continue to develop creative thinking, problem-solving, leadership, and communication skills. It has also provided many exciting adventures and challenges.
Who influenced you or encouraged you the most?
I had an Environmental Education professor at the University of Michigan who was passionate about teaching and learning. In addition to teaching us the best pedagogical practices, he took us on outdoor field trips. His enthusiasm for teaching and for observing the natural world was contagious. He not only knew the names of all the living things we encountered but made a point of quickly learning all the names of his 200+ students each semester.
What element of your work/study do you think is the most fascinating?
The most exciting part of my job is when I see students make mathematical and scientific connections through their hands-on experiences. It is also exciting when students begin to envision themselves as scientists, mathematicians, and engineers, setting their own goals for their STEM future.
What other jobs led you to your current career?
I spent 21 years as a classroom teacher in grades Kindergarten through 8th grade. Of those 21 years, I spent two of those years as a 6th grade Science teacher and seven as a 7th/8th-grade Mathematics teacher. I had the privilege of working as the Project Manager in a National Science Foundation grant, Elementary Teachers Engaged in Authentic Math and Science (ETEAMS). A component of this grant was providing lab and field experiences to both student teachers and their cooperating teachers. These teachers joined scientists at Texas A&M University-Corpus Christi in ongoing scientific investigations in Marine Biology. In addition, I worked with the preservice and inservice teachers in developing hands-on, minds-on STEM lesson plans aimed at developing a love for science and equipping these students to pursue careers in STEM.
What are your degrees and certifications?
Bachelors of Arts- University of Michigan-Ann Arbor-1989, Masters of Education-Vanderbilt University 1991. I am certified as an EC-4 Generalist, 4-8 Generalist, Mathematics 8-12, English as a Second Language, and Principal.
What are your hobbies?
I love hiking especially along the ocean and in the mountains. I am fortunate to live on North Padre Island along the Gulf Coast. Walking my dog each morning, I get to witness how much the beach changes from day to day. I also love writing, reading mystery novels, and children's ministry work at my church.
How did you get involved with the Nautilus Exploration Program?
Our school district is a proud member of the CITGO Innovation Academy family. After attending the CITGO Innovation Academy Summit, I was invited to be an Ambassador. Since 2014, CITGO and OET have partnered in making unique STEM education opportunities available to educators in Corpus Christi.
What advice would you give someone who wants to have a career like yours?
I would encourage young people who want to have a STEM career to take advantage of opportunities to gain hands-on experience, especially working with mentors in their field of interest. I would also encourage them to take initiative to reach out to professionals for internship experiences.