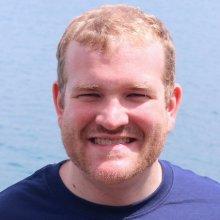 Kevin Konrad
He / Him
Science/Data Team
Assistant Professor
University of Nevada, Las Vegas
Tell us about your work/research. What kinds of things do you do?
My research focuses primarily on using noble gas geochronology to address a variety of questions involving the formation of marine volcanic features, dynamics of Earth's deep interior, supernova events, and calibrating the time scales of Earth's history. I am truly passionate about determining when something occurred in the distant past to link seemingly disparate events into larger Earth processes. Most of my research focuses on samples collected from the deep ocean basins. I have experience collecting these samples using a variety of ship-based methods such as dredging, deep drilling and remote-operated submersible exploration.
What sparked your initial interest in your career?
I grew up in New York City, which may seem like an unlikely environment to develop a passion for geology. However, I was fortunate enough to have the Museum of Natural History in my life. I would often visit the museum and admire the vast collection of natural specimens on display. Upon entering graduate school in Oregon, I had opportunities to sail on multiple scientific cruises. During my first cruise, I was able to see the nights sky as my ancestors once had and was astonished. Since that cruise, I have been addicted to life at sea.
Who influenced you or encouraged you the most?
My mother was the first to take me to numerous museums growing up. Her work ethic has continued to influence me to this day. My wife has been the primary influence on my life and work. Each day is a quest to live up to her abilities and accomplishments.
What element of your work/study do you think is the most fascinating?
Linking distant events across tectonic plates is particularly exciting. For example, how the closure of a subduction zone in one area of the world can propagate a change in tectonic plate behavior and volcanism across the globe.
What other jobs led you to your current career?
My experience working as a customer service representative at a grocery store and waiting tables at a chain restaurant gave me all the inspiration I needed to work hard at university and hopefully never do those jobs again.
What are your degrees and certifications?
Bachelors of Science (Geology) from Queen's College, CUNY.
Masters of Science (Geology) from Oregon State University.
Doctorate of Philosophy (Geology) from Oregon State University.
What are your hobbies?
I'm constantly searching for new restaurants and food. Otherwise I'm a homebody.
How did you get involved with the Nautilus Exploration Program?
My wife had an opportunity to sail and explore seamounts in the Papahānaumokuākea Marine National Monument. At the same time, I was a postdoc researching the Line Island volcanic lineament. When she heard OET was going to explore within the Line Islands region she introduced me to the science managers and I had the great privilege to sail with them.
What advice would you give someone who wants to have a career like yours?
Have a skill outside of your main field of study. For example, if you're interested in geology also become proficient at programming, chemistry, physics, writing and/or mathematics. Constantly network, although science may seem like a field filled with introverts it requires developing significant professional relationships to survive. Most of all - never give up.