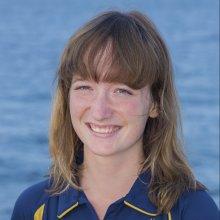 Kendra Clifton Pew
Honors Research Program Student
High School Student
Friday Harbor High School
Tell us about your academic interests. What subjects / topics are you most excited by?
The subjects that I find most fascinating are math and science. Math is one of my favorite subjects because it shows logical approaches to every problem and it involves many opportunities for teamwork, giving me the chance to learn other methods and new ways for me to approach problems. Science interests me because it can be used to explain every aspect of the world through many topics, from computer science to molecular biology. The most interesting combination of math and science for me is in oceanography, a topic that combines technology and engineering with scientific fields such as biology and chemistry. 
What sparked your initial interest in STEM?
I have lived on an island for most of my life, so I spend a substantial amount of time doing outdoor activities such as boating and hiking, activities that have exposed me to the science in the world that surrounds me. With this, I became interested in learning about how the world works and pursuing studies in science. Throughout my academic career, I have always been interested in math, as it is a backbone to so many other subjects and I enjoy learning logical approaches to problems. 
Who has influenced you or encouraged you the most so far?
My teachers have been the ones who have influenced me the most throughout school, as they have helped me focus on my interests and encouraged me to seek out opportunities that would most benefit those interests. With their encouragement, I've been able to push myself in my academics and participate in programs that allow me to explore a range of scientific topics, everything from hiking in the Grand Canyon to creating a walking guide for the UW Friday Harbor Labs. 
What prompted you to apply to the HRP Program? What are you most interested in seeing / doing while on the ship?
I took several marine biology classes throughout middle school and I have competed on my school's National Ocean Sciences Bowl team for the past two years, so my interest in oceanography has been growing for some time. Through this, I discovered the Honors Research Program and it was the perfect program for me to apply for because it will allow me to further develop my understanding of oceanography and its application to current research. Being on the Nautilus will expose me to the engineering and technology side of oceanography, something that I've had little experience with but a component that I find extremely interesting. 
Have you received any special awards or certifications?
High Honors in the Johns Hopkins University Talent Search
Track: Varsity letter, Most Improved 2014, State Qualifier 2016
Honor Roll 2013-2016
President Elect of National Honor Society 2016(-17)
What are your hobbies? What do you do for fun?
Outside of academics, I play several instruments and my sister and I regularly perform throughout the San Juan Islands. Living in the islands also offers me a variety of outdoor activities, most often kayaking, hiking or biking. I also run on my school's varsity track and field team, I am on the tech crew of the drama department, and participate in several community service clubs. 
What advice would you give to younger students who are interested in pursuing STEM opportunities?
My advice for pursuing STEM opportunities is to seek them out and apply for opportunities that interest you. Don't try to overload yourself by constantly being a part of everything, but find what you're most passionate about and pursue opportunities that would further those interests. 
What is a favorite quote or a quote that inspires you?
A quote that inspires me in my passion for oceanography and my interest in learning about how things work comes from oceanographer Sylvia Earle; "Even if you never have the chance to see or touch the ocean, the ocean touches you with every breath you take, every drop of water you drink, every bite you consume. Everyone, everywhere is inextricably connected to and utterly dependent upon the existence of the sea."
What would your dream job be?
My dream job would be one that allows me to work with others in a scientific field, a job that would integrate my enjoyment of research with my interest in applying concepts and using logical concepts to solve problems.
Expeditions
Kendra participated in the following Ocean Exploration Trust expeditions: