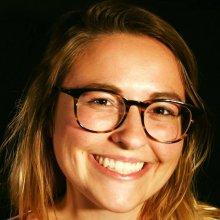 Kellie Wasikowski
Education
AmeriCorps member, Education Specialist
Thunder Bay National Marine Sanctuary
Tell us about your work/research. What kinds of things do you do?
I work with the public and school students to educate them on our cultural and natural resources and how they each contribute to environmental stewardship. Thunder Bay National Marine Sanctuary and their partners provide unique educational opportunities for students to engage in place-based education which encourages their interest and passion for our outdoor classrooms. By focusing on communication practice we are empowering the next generation of ecological leaders. 
What sparked your initial interest in your career?
I have always been interested in communications and was involved with academic debate through high school and into college, which introduced me to issue advocacy. Through various college involvements, I learned that the political route is not the most productive and that I wanted to surround myself and learn from people that progress the relationship between humans and the environment rather than economize it. Working at TBNMS gives me the opportunity to use deliberate communication to reframe climate change and empower people to embrace climate action. 
Who influenced you or encouraged you the most?
While in college I worked for a year as a Communications intern at my University's Office of Sustainability. My supervisor, a graduate student named Vivian Nguyen, exposed me to the opportunities in AmeriCorps as well as encouraged me to move and experience new places. 
What element of your work/study do you think is the most fascinating?
I am pleasantly surprised about the curiosity and interest of the students we work with and how the outdoor classroom encourages that curiosity. Each individual has unique interests and learning styles, and as an educator, I have the opportunity to continue encouraging those interests. 
What other jobs led you to your current career?
I'm fresh out of college with a bunch of internships under my belt but not too much professional experience yet. I served as a Legislative Page in the Nebraska State Legislature's Natural Resources committee in 2016, and this was a pinnacle experience that drove me toward conservation rather than politics. The legislative process for natural resources is in conflict with economic motives, and legislation seemed to be assessed exclusively for economic motives rather than protecting the earth. 
What are your degrees and certifications?
Bachelor of Science in Environmental Science, University of Nebraska-Lincoln 2018 
What are your hobbies?
Since it's been nice out lately, being outside! I like to peddle around on my bike to the best waterfront spots in Alpena, read, journal, or people and nature watch. I also love watching anime. 
How did you get involved with the TBNMS project with OET?
I was selected to join the TBNMS side of the communications team for the R/V Storm expedition. Since I focus on communication and education, I hope to reach a wide audience with this project that continues to expose opportunities in underwater exploration.  
What advice would you give someone who wants to have a career like yours?
Find the light! Climate change and all of the related events can be so daunting but now more than ever it seems like there are many involvement opportunities for people who are passionate about the environment. So figure out how you want to positively impact our environment and then go forth.