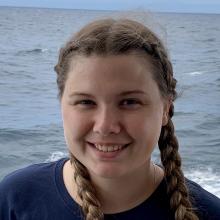 Keely-Shaye Lullwitz
She/Her
Marine Equipment Specialist
Marine Equipment Specialist
Ocean Networks Canada
Tell us about your work/research. What kinds of things do you do?
At ONC I work as a Marine Equipment Specialist on our Field Services team. My role involves building and maintaining our instrumentation assets. This includes sub-sea platforms, moorings, underwater vehicles, and ship-mounted data acquisition systems.
What sparked your initial interest in your career?
I grew up in a rural area on a lake and spent most of my childhood exploring the forest and spending time on the water. I enjoyed learning about the local geography and how the region was formed. In high school, I studied woodworking and automotive repair along with various science and mathematics courses. I wanted a career that combined my interests in geography, technology and working hands-on. Remotely Operated Vehicles intrigued me because they could be used to explore environments that humans have never seen before
Who influenced you or encouraged you the most?
While in university I was able to be a member of the Eastern Edge Robotics MATE ROV team. I was given the opportunity to be the pilot for the team for 2016 and 2017. We competed and won the international competition in 2016 when it was held at NASA's Neutral Buoyancy Lab. This opportunity inspired and motivated me to continue pursuing a career in Ocean Technology. The team's mentors; Paul Brett, Joe Singleton, and Jai Ragunathan encouraged, taught, and motivated me throughout my university career.
What element of your work/study do you think is the most fascinating?
I have always found hydrothermal vents very intriguing and inspiring. During my first cruise with ONC we were able to visit various hydrothermal sites off Vancouver Island. I love being on board the vessel and watching the ROV pilots navigate around the hydrothermal vents.
What other jobs led you to your current career?
My first work term in university I spent working with remotely operated net cleaners to clean ocean based aquaculture pens. I spent another summer working at Seamor Marine, an ROV manufacturing company that specializes in inspection and payload class ROVs.
What are your degrees and certifications?
Bachelor of Technology in Engineering, Technology and Applied Science -- Memorial University of Newfoundland 2019;
Technician Diploma in Remotely Operated Vehicles -- Marine Institute of Newfoundland 2019;
Diploma of Technology in Underwater Vehicles -- Marine Institute of Newfoundland 2019
What are your hobbies?
I have a Shetland Sheepdog that I am training in agility and scent detection. I also enjoy sewing, knitting and various other crafts.
What advice would you give someone who wants to have a career like yours?
Learn as much as you can about your subject and get experience outside of the classroom. Join clubs and groups to broaden your experience and expand your field of knowledge.
Expeditions
Keely-Shaye participated in the following Ocean Exploration Trust expeditions: