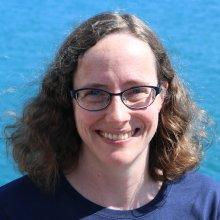 Katie Kelley
Lead Scientist Ashore
Professor
University of Rhode Island
Tell us about your work / research. What kinds of things do you do?
My research broadly focuses on the exchanges of materials between the Earth's surface and the interior that take place at sites of volcanic activity. Specifically, I study the composition of lava erupted from Earth's many types of volcanoes, as a window into the processes that melt the Earth's interior and bring magma from depth to the surface. The lava that erupts provides valuable information, such as the composition and gas content, of the Earth's upper mantle. In the laboratory, I apply novel tools to analyze the composition of natural volcanic glasses, minerals, and rocks, as a way of finding and unraveling the processes of magma formation and creation of the Earth's crust and mantle.
What sparked your initial interest in your career?
Since I was a young child, I have always been interested in the variety of rocks found in nature, and in understanding how different landscapes are formed. In college, I discovered that I really excelled in my geology classes, and found this to be a perfect way to merge my interests in the great outdoors with a pursuit of answers to scientific questions.
Who influenced you or encouraged you the most?
My early interest in geology was fostered by my father, Phil Kelley, a geography professor, and amateur geologist. He used to take me on field trips with his college classes, and those experiences really opened my eyes to the natural world around me.
What element of your work / study do you think is the most fascinating?
I dove to the ocean bottom in a manned submersible, the Shinkai 6500, to collect rocks from an ancient volcano. It was stressful, but also very rewarding, experience to be hovering above the seafloor and peeking out a tiny window at that alien landscape.
What other jobs led you to your current career?
After I graduated from college, I won a Fulbright Scholarship to study abroad for a year. I lived in the Philippines and spent my year traveling to several of the active volcanoes there, collecting samples and speaking with local people about volcanoes.
What are your degrees and certifications?
Bachelor of Arts in Geology, cum laude -- Macalester College 1997; Doctor of Philosophy in Earth Sciences -- Boston University 2004
What are your hobbies?
I am an avid photographer, and I really love to cook.
What advice would you give to someone who wants to have a career like yours?
To succeed in geology, you actually need a strong education in all the supporting sciences - chemistry, physics, mathematics. Find opportunities that get you out into the rocky world, through hiking and mountain climbing, local geology clubs, or volunteering at a nearby university or museum. If you find ways to fuel your interests, this may help you connect with a good mentor along the way. Having a human connection, such as a strong mentor, in the field that interests you, can really help to guide you towards a scientific career.
How did you get involved with the Nautilus Exploration Program? How did you get on the ship?
I am working closely with Steve Carey, the Lead Scientist of this expedition.
Expeditions
Katie participated in the following Ocean Exploration Trust expeditions: