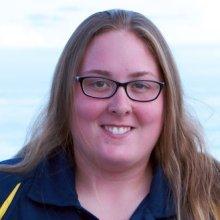 Katherine Rodrigue
Science/Data
Katie Rodrigue is currently working as a research assistant at the Marine Fisheries office of the Rhode Island Division of Fish and Wildlife. She assists in all aspects of marine fisheries research of finfish and commercially important invertebrates in Narragansett Bay. In the past, Katie has worked as a research assistant at the University of Rhode Island studying an invasive red alga along the local coastline. She has also had the pleasure of interning on board the E/V Nautilus during the 2013 season.
Katie Rodrigue graduated from the University of Rhode Island in 2013 with a bachelor's of science degree in marine biology.
"I am excited to return to sea with the Nautilus for a second season! I had a wonderful experience in 2013 and am looking forward to learning even more about ocean exploration during the 2014 expedition. There are no limits to what we can discover in our oceans and I am excited to be a part of the adventure!"
Expeditions
Katherine participated in the following Ocean Exploration Trust expeditions: