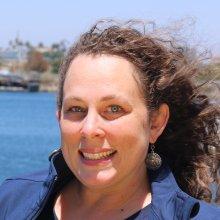 Katherine Gertz
Nautilus Ambassador
Elementary School Teacher
EK Key Elementary
Tell us about your work / research. What kinds of things do you do?
I teach fourth grade; my classroom is STEM based with activities across the curriculum. Students experience hands on, real world situations where they are expected to problem solve in a cooperative group. 
What sparked your initial interest in your career?
I began teaching because both of my parents were teachers and they inspired me to develop a love of learning. My father and mother both taught in the science field and our house growing up was always filled with science experiments and hands on discovery. My father retired from the local university where I spent hours as a child in the labs and lecture halls absorbing information and developing a deep passion for curiosity.  
Who influenced you or encouraged you the most?
My parents and my grandfather lit a spark of enthusiasm for learning that has become a raging fire. They helped me understand that teaching is the best way to keep learning. 
What element of your work / study do you think is the most fascinating?
The most fascinating part of my work is inspiring curiosity in others.  
What other jobs led you to your current career?
Before I became a teacher, I was a sales manager for an advertising company. 
What are your degrees and certifications?
Bachelor of Science in Elementary Education
What are your hobbies?
I spend the majority of my time reading or gardening. I am an avid coffee drinker and I love sitting on the porch and talking with friends. 
What advice would you give to someone who wants to have a career like yours?
The children of the world deserve the best education available, and that requires top level teachers who are determined to become the best at their trade. Teaching children is not for the faint of heart. It takes a very special type of person to educate young minds. Teachers do not just impart information, they hand on wisdom, they nurture curiosity, they model stewardship, and they embrace diversity. It is so much more than academic, is it personal. If you want to change the world-teach!
How did you get involved with the Nautilus Exploration Program? How did you get on the ship?
I got involved with the Nautilus Exploration Program by attending a STEM training organized by OET in partnership with CITGO.