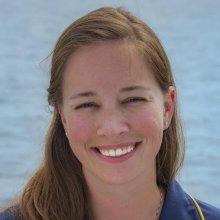 Kaitlin Kovacs
Science/Data
Research Biologist
US Geological Survey
Kaitlin Kovacs is a research biologist contracted by CNTS for the US Geological Survey at the Southeast Ecological Science Center. She works under Dr. Amanda Demopoulos in the benthic ecology lab, which focuses on understanding community structure and trophodynamics of the deep-sea. Kaitlin is keen on using outreach and education to engage local communities and youth in marine science and conservation efforts.
Kaitlin Kovacs graduated with a B.S. in biology in 2006 from the University of Florida, and completed her Masters in Environmental Management with focus on coastal and marine ecosystem science and conservation at the Nicholas School of the Environment, Duke University, in 2012. 
"Raised in Florida, the ocean - particularly what lays below the surface - has always held a certain mystique for me. Growing up, while others exclaimed, "I want to be an astronaut!" and looked to the stars, I looked to the ocean and exclaimed, "I want to see the deep!" Every opportunity to set sail on the sea further instills my passion for the ocean and its conservation."