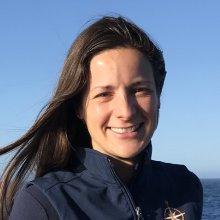 Kaitlin Graiff
Science/Data Team
Research Contractor
Cordell Bank National Marine Sanctuary
Tell us about your work/research. What kinds of things do you do?
I specialize in analyzing underwater video collected by remotely operated vehicles (ROV), autonomous underwater vehicles (AUV), and human-occupied submersibles. When I analyze video I identify and record habitats, fish and invertebrates. I have looked at hundreds of hours of video collected from offshore the US West coast on the continental shelf and slope. I'm particularly interested in benthic macro-invertebrates, such as deep-sea corals and sponges. These organisms are long-lived, slow-growing and provide habitat for other species of invertebrates and fish. I also think they are very beautiful! When I am finished analyzing the underwater video, I perform data analyses and produce map products using ArcGIS for technical reports for resource managers.
What sparked your initial interest in your career?
From a young age, I've been an explorer, observing nature and asking questions. I grew up in a small Connecticut town in the woods and on a lake which gave me endless opportunities for my mini-exploration as a kid. In high school I started SCUBA diving on family trips to the Caribbean and felt the calmest in the water, watching and thinking about each animal's purpose in the reef ecosystem. I developed a fascination for marine invertebrates because they are quite complex organisms once you get to know them. I chose to pursue a degree in marine biology, worked hard at it and feel so grateful that I now have a career that I love. Even though I'm looking at the seafloor on video through a computer screen I can still observe, wonder and be in awe of what I'm seeing. I also enjoy taking inventories and keeping data organized which are skills necessary for analyzing underwater imagery.
Who influenced you or encouraged you the most?
My parents have been incredibly positive about this career dream of mine; supporting my education that took me away from home to marine labs and research stations in the Gulf of Maine, Virgin Islands and New Zealand. My graduate school advisor at Washington State University, Dr. Brian Tissot, introduced me to this world of underwater video and in his teachings, he stressed the importance of applied ecology for this kind of research.
What element of your work/study do you think is the most fascinating?
The unknown of the deep ocean. Exploring the seafloor that has never been seen by human eyes using world-class technology. There is the potential for discovering new species. It's a privilege to see these unknown areas and it's only a small fraction of the majority of our planet. There is still so much more to discover - it's a lot of fun!
What other jobs led you to your current career?
While I was a student at the University of New Hampshire I volunteered in a lab identifying and sorting small invertebrates from mud samples collected from the Gulf of Maine. I call this my "picking worms" job. But in all seriousness, it motivated me and gave me the hands-on experience and references I needed to go to graduate school. I was accepted into a Master's program at Washington State University and my thesis project focused on analyzing underwater videos collected by the Delta submersible from central California's continental shelf. I learned the methods for identifying habitats, marine invertebrates and fish and how to statistically analyze those datasets. Shortly after finishing my Master's degree in 2009 I applied for and was hired on a seven-month temporary research position with the Cordell Bank National Marine Sanctuary (CBNMS). Cordell Bank National Marine Sanctuary has a strong history of conducting benthic surveys using underwater vehicles. My temporary position with CBNMS has evolved into ten years of working with them. I am an independent contractor with the National Oceanic and Atmospheric Administration (NOAA) so in addition to working for CBNMS I analyze underwater video for the Greater Farallones National Marine Sanctuary and the National Marine Fisheries Service.
What are your degrees and certifications?
- Bachelor of Science in Marine and Freshwater Biology – University of New Hampshire, 2005;
- Master of Science in Environmental Science – Washington State University, 2008
What are your hobbies?
Practically anything you can do outside: hiking/backpacking, biking, cross country skiing, tide pooling, gardening, playing with my two dogs and I'm trying to get better at surfing. I'm very active keeping up with my curious and nature-loving 4-year-old son. I have a creative side for crafting and jewelry making. My house also keeps me busy with many DIY improvement projects.
How did you get involved with the Nautilus Exploration Program?
Ocean Exploration Trust has partnered with the Office of National Marine Sanctuaries to focus exploration in sanctuaries on the US west coast. I was invited to participate in the expedition to Cordell Bank National Marine Sanctuary and Greater Farallones National Marine Sanctuary.
What advice would you give someone who wants to have a career like yours?
School is important, study hard, excel in your classes. You'll probably need an advanced degree, but don't approach that without 100% commitment. The most valuable thing you can do while taking classes is to gain hands-on experience as a volunteer, intern or technician at a research lab, marine field station, nonprofit, etc. You probably won't get paid much (if at all) and the positions may be on a seasonal or temporary basis - but don't let that discourage you. It's about proving you are a hard worker, passionate about what you are doing and building relationships with professionals in your field of interest. Those connections will expand your network of colleagues who will be references for you and thus opening doors to more job opportunities than you can find searching the internet.