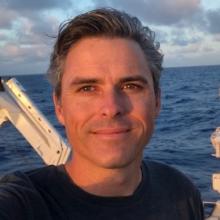 Justin Umholtz
Science/Data Team
Education Associate
National Marine Sanctuary Foundation for Papahānaumokuākea Marine National Monument (based at Mokupāpapa Discovery Center)
Tell us about your work/research. What kinds of things do you do?
I have the pleasure of working with preschool to university level students as well as the general public to interpret the histories, discoveries, and exploration within Papahānaumokuākea Marine National Monument. My job is to "bring the place to the people" since this remote UNESCO World Heritage Site is only rarely visited, primarily for Hawaiian cultural practices, scientific research, and occasional documentaries and photography projects. The best part of my job is creating hands-on and interactive ways for people to engage with the many stories that explain the unique and special nature of this protected part of the Hawaiian Archipelago.
What sparked your initial interest in your career?
I've always lived near the Pacific Ocean and love connecting and playing outside, both in the mountains and in the ocean. My undergraduate work at The Evergreen State College, where they emphasize interdisciplinary learning and community engagement, led me to several nonprofit jobs that sparked my passion for working with youth by engaging them in the environment through hands-on science and community service; activities where they built the skills and confidence to make positive change in the world.
Who influenced you or encouraged you the most?
The list is long, but probably the first was my mom, who introduced me to teaching and education from an early age when she brought me into her classroom.
What element of your work/study do you think is the most fascinating?
I love learning from the different people who are connected to Papahānaumokuākea, then figuring out how to share their stories with others. I can talk with our archeology team about the search for aircraft wrecks from the Battle of Midway, see video footage of 50 Galapagos sharks from a recent scientific expedition, and study Hawaiian history and current cultural practices at Mokumanana all in a single day. 
What other jobs led you to your current career?
While teaching has been the center of my career, I've rounded it out by working with various ages, in different settings, and across disciplines. In addition to teaching specific programs, I stayed with my employers long enough to be asked to coordinate programs and eventually help with overall operations of the nonprofit. While my greatest love is direct teaching, gaining more experience developing programs, hiring and supervising managing budgets and evaluating big picture goals and outcomes was invaluable. This breadth of experience made it easier to transfer to Hawai'i and work with a small team required to wear a lot of different "hats."
What are your degrees and certifications?
Bachelor of Arts in Community Development (emphasis Spanish language and Agroecology) - The Evergreen State College 1998; Masters of Education (Curriculum, Teaching, and Learning Program) - Sonoma State University 2007; Nonprofit Leadership Institute Certificate - South Puget Sound Community College 2011; Certified Interpretive Guide - National Association of Interpretation 2017
What are your hobbies?
I love farming and gardening, rock climbing, SCUBA diving, outrigger canoe paddling, SUP, hiking, inventing tasty meals from what's in the fridge, and a good story.
What advice would you give someone who wants to have a career like yours?
Nonformal education (outside of a formal classroom) is not an easy career in terms of stability, although I've seen many more opportunities arise in the last 10-15 years. Seek out opportunities early in your career where you think you can find good mentors. While changing jobs is often required (due to seasonal positions), a lot of learning and advancement opportunities open up if you stick around for at least 2-3 years. Take advantage of local, regional and national associations that will help you connect with others in this diverse field - you never know what opportunities and inspirations will arise!
How did you get involved with the Nautilus Exploration Program?
I was invited as a staff representative and resource monitor for Papahānaumokuākea Marine National Monument for a leg of the 2018 expeditions. Since then, I've tried to keep improving our teacher connections to the many amazing educator resources available through OET.
Expeditions
Justin participated in the following Ocean Exploration Trust expeditions: