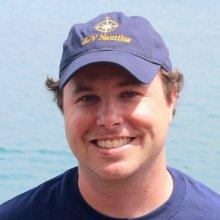 Justin Richards
Science Communication Fellow
High School Science Teacher
Dorman Freshman Campus
Tell us about your work/research. What kinds of things do you do?
I currently teach at a ninth grade only campus in Spartanburg, South Carolina. Every day I try to come up with an activity or project that will get my students excited about Science. I teach a combination of Chemistry and Physics. I only have my students for a semester so we really get to hit the highlights. Coming soon, we will build and shoot bottle rockets. My students and I really enjoy the Physics portion of our class because it allows for many hands-on experiences and allows us to put Science into action. 
What sparked your initial interest in your career?
After graduation, I began working with the South Carolina Department of Health and Environmental Control. My position with the agency was as an Environmental Health Manager. I really enjoyed working out in the environment but the part of the job I enjoyed most was interacting with the general public in an educational role. I decided to pursue an alternative certification program in my state that allows people to move into a classroom role without going through a teacher education program.
Who influenced you or encouraged you the most?
Throughout my K-12 education, I have always enjoyed math and science. It was not until I made it to college that my interests really narrowed to the environment and neuroscience. I had two really great professors at Wofford, Dr. Kusher and Dr. Hettes, that encouraged me to pursue these areas of interest. 
What element of your work/study do you think is the most fascinating?
I have only been in the classroom for six years but I have already taught over 600 students. It is amazing to think all the students that I will have the opportunity to teach over a full career. 
What other jobs led you to your current career?
After graduating from Wofford College I started working for the South Carolina Department of Health and Environmental Control as an Environmental Health Manager. A big part of my job was educating the community on rules and regulations and the importance of maintaining our natural resources. Throughout my six years at SCDHEC I really began to enjoy the education portion of the job and decided to pursue it full time. Science is a critical needs subject in my state and I decided to pursue an alternative certification program for educators in the state. The program allowed me to begin teaching immediately without having a background in education. 
What are your degrees and certifications?
Bachelor of Science in Biology -- Wofford College 2007; Masters of Educational Leadership -- Arkansas State University 2016; Open Water SCUBA 
And are your hobbies?
I love traveling the world with my wife and SCUBA diving. I have also become a pretty good cook of all things Cajun. 
How did you get involved with the Nautilus Exploration Program?
My wife is responsible for getting me involved in this program. My wife received an email from her school detailing the Science Communication Fellowship and decided that it sounded perfect for me. I applied for the fellowship thinking I would never get picked but here I am about to travel to the middle of the south pacific. 
What advice would you give someone who wants to have a career like yours?
I always tell my students to take a variety of classes early on to see if something strikes their interest. Once you find your chosen subject/issue learn as much as you possibly can, make yourself an expert. No matter what one chooses to do you should talk to people who are already doing it. Making connections with people in your chosen field will go a long way towards helping you reach your goal.
Expeditions
Justin participated in the following Ocean Exploration Trust expeditions: