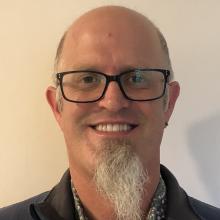 Justin Holl
Education & Outreach Specialist
Greater Farallones National Marine Sanctuary
Tell us about your work/research. What kinds of things do you do?
As an Education & Outreach Specialist for the Greater Farallones National Marine Sanctuary (GFNMS) I manage our sanctuary Visitor Center in San Francisco and partner with my education colleagues to coordinate and deliver school programs and public programs. I coordinate field trips to the GFNMS Visitor Center and co-coordinate a marine science enrichment afterschool program that serves ~400 3rd-5th graders every year in partnership with the City of San Francisco and community NGOs. I also assist our education team by helping deliver family workshops, naturalist training courses, in-class presentations, science lectures, and Sharktoberfest, our annual celebration of white sharks.
What sparked your initial interest in your career?
Growing up, I loved long distance running. When I would go for long runs in the hills, I loved observing plants and animals and noticing patterns. When I got to college, I discovered there were courses and literature on subjects like botany, ecology, oceanography, and natural history that had always interested me. That was very exciting. In college, I became involved in field stations like Stanford's Jasper Ridge Biological Preserve and Hopkins Marine Station. I really benefited by being part of these incredible field laboratories for research and education. Over time, I gradually shifted my focus from doing science towards working in education full-time.
Who influenced you or encouraged you the most?
When I worked as an educator at Jasper Ridge Biological Preserve, I was encouraged by the incredible community of volunteers. They were extremely knowledgeable and generous with their wisdom and their time and made me feel included and accepted. Many of my college professors were also very encouraging and my family has supported me.
What element of your work/study do you think is the most fascinating?
I love bringing engaging hands-on marine science programming to students and the public that helps them appreciate their amazing sanctuary. Since we are a relatively small team of educators, I think it is fascinating to find ways to sustainably grow our capacity to serve as many people as we can.
What other jobs led you to your current career?
In college, I had the opportunity to work in the campus book store which exposed me to all kinds of great books. As a teaching assistant, I gained experience preparing and presenting lessons and engaging with students. A year abroad teaching English in Prague in the Czech Republic was excellent teaching and life experience. During and after college, I held a number of research and education positions at Jasper Ridge Biological Preserve and enjoyed being part of a broad community interested in natural history, conservation, and long term data sets. I worked as a geologist for the United States Geological Survey, studying coastal erosion and studying off-shore sand deposits around O'ahu. This brought my focus from terrestrial systems to marine systems. Working for NOAA at Greater Farallones National Marine Sanctuary since 2008 has been an incredible opportunity for growth, exploration, and contribution.
What are your degrees and certifications?
Bachelor of Science in Earth Systems -- Stanford University 1997; Master of Science in Earth Systems -- Stanford University 1999
What are your hobbies?
I love juggling. I've been working on 5 balls for a few years now. I also enjoy cooking for my family, reading modern fiction, riding bicycles (and unicycles) and getting out into nature.
How did you get involved with the Ocean Exploration Trust?
I was invited to participate as a representative of the Greater Farallones National Marine Sanctuary Education & Outreach team.
What advice would you give someone who wants to have a career like yours?
Make your own opportunities. One of the best years of my life was working for Estación Costera de Investigaciones Marinas, a marine laboratory in central Chile. There wasn't an open position for a visiting marine science educator at the lab, but I tracked down the director at a conference and laid out why my partner and I wanted to come work for the lab and what we could offer. He ended up offering us paid positions. We had so many adventures and gained invaluable experience, but it took some initiative to set it all in motion.
Expeditions
Justin participated in the following Ocean Exploration Trust expeditions: