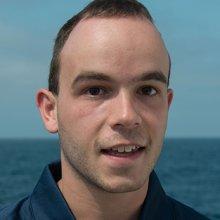 Justin Carroll
Video Engineering Intern
Undergraduate Student
Middle Tennessee State University
Tell us about your work / research. What kinds of things do you do?
As Video Engineers, it is our job to design, implement, and troubleshoot all technical aspects of our production. From start to finish we are constantly thinking about the most effective and innovative ways to approach and carry out a production. While at sea, our job as interns is to facilitate the work of scientists and other engineers on board with tools such as ROV Camera Operation, Camera Shading, Audio Communications, Signal Flows, Satellites, and more. It is an exciting time to be a Video Engineer!
What sparked your initial interest in your career?
For as long as I can remember, the Film and Television Industry has fascinated me unlike any other. I've always been in awe of how large an impact the fields have on our lives and the world around us. Throughout college, I took classes geared towards both the creative-side and the technical-side of the industry. I also freelanced my way through school, and quickly realized the amount of diversity and opportunity the industry has for its professionals. I am more and more excited each day to find out what our new challenges will be, and how we will put our knowledge to use. The 2016 Nautilus Expeditions will definitely be one of those unique and challenging experiences I will never forget.
Who influenced you or encouraged you the most?
I would not be where I am today without the encouragement and support of my parents, friends, and mentors I've been lucky enough to have around me. Getting your foot in the door can be difficult, and I am thankful to have had unique experiences and opportunities to facilitate that. I would like to specifically mention Mike Forbes, Marc Parrish, and Mary Nichols; without whom, I would not be in the position with Nautilus I am today. 
What element of your work / study do you think is the most fascinating?
The most fascinating aspect of my work is the potential impact is has on the world around us. It's not just about the blueprints, the patch-bays, the buttons on the video switcher. It's about those who are watching, the discoveries being made, and the lives being changed by the work we do. That in itself makes the long-hours worth every minute. 
What other jobs led you to your current career?
I have been fortunate enough to be able to freelance in the industry throughout my college career. While doing so, I've learned a great deal about the many different departments and countless hours that are demanded to put on productions of a professional-quality. In addition to much time spent on film-sets, I've spent a great deal of time exploring Camera Techs, Technical Directing, live video-switching, and Video Engineering. Video Engineering and Sea Exploration are both extremely collaborative efforts; it is so important to be aware of the many moving parts around you. I strongly believe in being well-rounded and trying new things. You never know where your life or your career will take you.
What are your degrees and certifications?
Bachelor of Science in Electronic Media Communication - Video and Film Concentration - Middle Tennessee State University 2016
What are your hobbies?
When I'm not at work, I'm probably hitting the great outdoors. I love to hike, camp, and explore places I've never been before. I also share a love for music and strumming the nearest acoustic guitar. 
What advice would you give to someone who wants to have a career like yours?
The best piece of advice I have for someone who is interested in a career like this would be to never stop; treat every opportunity that comes your way like it has the potential to change your life because the truth is, you never know. This field can be extremely diverse, and takes a group effort at many times. Don't be afraid to branch out and explore aspects of it that you hadn't initially intended to or thought of. Technology is changing everyday, and with it, our field. Being knowledgeable and excited about a diverse background of material can be invaluable. Keep being passionate about what you are doing; your dreams are not far out of reach!
How did you get involved in the Nautilus Exploration Program? How did you get on the ship?
I was fortunate enough to know a member of the Nautilus Exploration crew prior to officially getting involved with the program. Mary Nichols, a retired professor of our university, suggested I apply following our work together at Bridgestone Arena. The rest is history.
Expeditions
Justin participated in the following Ocean Exploration Trust expeditions: