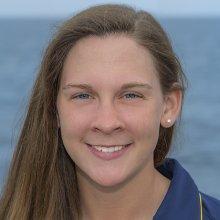 Julia Arthur
Navigator Intern
Midshipman 2/C
United States Naval Academy
Julia Arthur is about to begin her junior year as a Midshipman at the United States Naval Academy. Previously, Julia worked with OET as an Honors Research Student in the summer of 2012. She spent five weeks at URI's Graduate School of Oceanography working on a program to map the data recorded by Hercules around the Anaximander Mountains, and then spent a couple weeks aboard Nautilus in the eastern Mediterranean Sea. Since that summer, Julia has been enjoying her academic and professional development at the Naval Academy, rowing for the Navy women's crew team, and eagerly awaiting an opportunity to rejoin the Corps of Exploration. 
Julia is majoring in oceanography at the United States Naval Academy, with a particular interest in meteorology and geologic oceanography. Julia will graduate in May of 2017 and is considering a career in naval or marine aviation, or in the Navy's meteorology/oceanography community.
"My first experience aboard Nautilus is without question the single most interesting, engaging, informative, and enjoyable internship I've ever had the privilege of completing. To that end, I absolutely cannot wait to rejoin the Corps of Exploration this summer to see what this new adventure has in store!"
Expeditions
Julia participated in the following Ocean Exploration Trust expeditions: