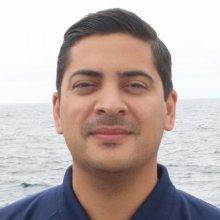 Joshua Reyes
Argus Pilot
Systems Operator
Monterey Bay Aquarium
Tell us about your work / research. What kind of things do you do?
I operate and maintain the life support systems at the Monterey Bay Aquariuam. At times I am the only Operator monitoring and running the facility for lengthy amounts of time. I troubleshoot and repair electronic and mechanical equipment, as well as perform preventative patience tasks. My position takes me out to sea, underground, behind the scenes and everywhere in between.
What sparked your initial interest in your career?
I've always had an affinity for aquatic life, and exploration, not to mention mechanical and electronic systems. I feel like I was born in the wrong century, the majority of land has been explored, and I wont be going up in space any time soon. However this position affords me the freedom to enjoy three things I love in one setting. Doing something you love as a career is becoming more and more rare these days, combining three things you love is a dream come true for me. 
Who influenced you or encouraged you the most?
Hands down my wife encouraged me the most, she supported me through all the courses, volunteering, internships, and time at sea. 
What element of your work / study do you think is the most fascinating?
The most fascinating aspect for me is not always knowing what your going to see while exploring. It could be a new formation, a coral that is thousands of years old, or a wreck you never know. 
What other jobs led you to your current career?
I set out to become an ROV Pilot, I realized it was my dream and set a path to make it happen. Any positions purpose I held from that time on served only to further my chances are becoming a pilot. When it came down to applying for gainful employment, I always asked myself if the position was going to somehow better my chances at becoming a pilot if the answer was yes, I took the position. Ive held positions that allowed me to troubleshoot electronic, hydraulic, and mechanical systems. 
What are your degrees and certifications?
A.S. Electrical Technology LBCC 2012
What are your hobbies?
I enjoy spending time with my family, hiking, kayaking, tide pooling. I play the drums and tinker. 
What advice would you give to someone who wants to have a career like yours?
Get comfortable working with your hands, learn to love trouble shooting mechanical and electronic systems. Get involved with a robotics team that participates in MATE ROV competition. Tinker, and learn a programming language. It also very important to try and find a way to get some at sea time, being out on the ocean for lengthy periods of time is not for everyone, and can be a deal breaker for some. Good luck!
How did you get involved in the Nautilus Exploration Program? How did you get on the ship?
My goal when going back to school was to work aboard the EV Nautilus, I joined a robotics team and applied for an engineering internship aboard the Nautilus. 
"I couldn't imagine a better scenario than using technology to explore the oceans, with a group of dedicated professionals." 
Expeditions
Joshua participated in the following Ocean Exploration Trust expeditions: