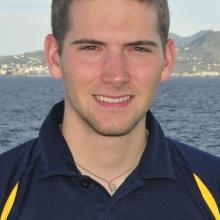 Joshua Kelly
Data Logger
University of Rhode Island
Josh Kelly works as one of the data loggers onboard the E/V Nautilus.
Josh has worked as undergraduate research assistant with Rhode Island State Geologist and URI Professor Emeritus, Jon C. Boothroyd, on determining the potential for low-temperature geothermal energy in Rhode Island. He has also compiled, interpreted, and digitized legacy borehole/well data that includes geologic information important to facilitating the development of geothermal systems in Rhode Island. Josh has also worked as a student volunteer at the summit of Mauna Kea while studying at the University of Hawaii. He also enrolled in Miami University's Geologic Field Station where he spent five weeks mapping the Wind River Range in Wyoming.
Josh graduated from the University of Rhode Island in August 2011 with a degree in Geosciences. He is currently a graduate student studying Geological Oceanography at URI's Graduate School of Oceanography under advisor Dr. Steven Carey.