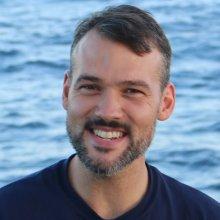 Josef Rogoschewsky
ROV Engineering Intern
Mechanical Engineer Technologist
Camosun College
Tell us about your work / research. What kinds of things do you do?
My professional field of interest is combining my love of product engineering with cutting-edge industrial design to create a symbiotic design approach. My focus is applying usability studies, iterative design with advanced materials research. I love the challenge of balancing the practicality of engineering manufacturable devices while designing form and function that is both highly purposeful, yet stunningly beautiful and elegant. My design style highly utilizes bio-mimicry to define product concepts using the abundance of life on earth as a grand template. Through creative collaboration, I work as the center of the creative wheel, connecting the many spokes of engineering professionals together to create one centered single design voice. By unifying the design process, I help create products where the style of the software, the choice of materials, the usability, the electro-mechanics and the overarching industrial design of the final product reflects one single idea. This style of work collimates in solving problems in a distinctly functional yet astoundingly simplistic form. I then assist the marketing of my designs with my other life passion, filmmaking. Every product has a story, by drawing upon my background in film and television production, I use visual mediums to help communicate the design approach and product advantages to the end user by creating gorgeous marketing videos that highlight the product and how it can improve the lives of the user.
What sparked your initial interest in your career?
I grew up building electro-mechanical devices with my dad who's an electrical engineer technologist. From as early as I can remember, I was taking things apart and building little machines in Lego, Construx, and Meccano. I loved learning how things worked, love learning about the laws that govern our existence and how we can use these laws to create wonderful new technologies. I started acting in films and television when I was a kid and discovered that I also loved filmmaking. I started working as a camera assistant after high school and worked my way up to being the cinematographer of many documentaries and television shows. I loved making films but found the equipment was very limiting, I wanted to design my own camera gear. I went to college and studied Mechanical Engineering, earning a diploma in 2016 from Camosun College. I plan to continue my education by studying a bachelor's degree in Industrial Design at Carleton University next year. 
Who influenced you or encouraged you the most?
My father was my first great teacher of physics and engineering. A man who loves the topics of science so much that I remember him often reading physics textbooks late in the evenings to relax. He taught me that a career in applied science means you will always be a student. My father showed me the wonders of the universe, taught me how to ask questions and how to think through a problem. He inspired me by providing the tools and resources to build, play and explore science in a fun engaging manner.   
What element of your work / study do you think is the most fascinating?
What I find most amazing about the field of engineering and design, is that any of it actually ever works. When you stop and realized just how amazing a transistor is, spend time learning how it works, then fathom that humans can manufacture 3 billion transistors onto a microprocessor the size of your fingerprint! It shouldn't work, yet it does. We live in an age where you can have a cup of tea sitting in the sky well you fly over an ocean in just a few hours. Everything we have built, all the skyscrapers and space stations, supercomputers and magnetic levitating trains have all come out of the earth. All these advance machines were created with only two things, the material of the earth's crust and with ingenious minds. This continues to fascinate, stun, inspire and amaze me daily.
What other jobs led you to your current career?
Working in the film industry showed me what you can create when you study and most importantly, practice a craft. It taught me that I could create a way to express my thoughts that felt more like myself. My time working at several large engineering firms in vastly different fields has shown me just how powerful engineering, science, and technology can be to create the type of world we want to live in. Teaching English abroad in Mexico taught me just how important communication is, and that without it, we can accomplish nothing. But the single most important thing that my previous work experience has taught me is that you do not have to be a specialist in just one field of interest. That often the most interesting, greatest potential careers comes from realizing the multitude of your skills and finding creative ways to combine numerous careers into one holistic profession where the sum is greater than its parts.   
What are your degrees and certifications?
Mechanical Engineering Technologist Diploma (2013 - 2016) - Camosun College - Victoria BC, Subsurface Radar Technician Certificate (2010) - GSSI Institute - Nevada USA, Spanish Language Course Certificate (2005) - Universidad Nacional - Mexico City, Mexico, IATSE Camera Assistant Training Program Certificate (2001) - IATSE 669 - Calgary, Alberta
What are your hobbies?
I love to go backpacking around the world. I have traveled extensively to over 40 countries around the world. I absolutely love packing a small backpack, doing some research and heading out into the world to discover all the multitude of people who live so differently than myself. I love what I can learn from other cultures and what I can share from my own. I also enjoy music and have been studying jazz piano for several years. Whenever I can, I enjoy pretending that I'm a fish with scuba diving. Nothing is as close to flying as diving, under the sea you are finally free to move in all 3 dimensions. I find diving is one of the most peaceful activities I have ever experienced. Besides that, I am completely addicted to chess, and spend way too much time playing online speed chess. 
What advice would you give to someone who wants to have a career like yours?
The key to becoming great at anything is to relentlessly practice your craft. Building skills is an exercise in compounding interest. Small daily commitments to studying and practicing over the years lead you to achieve your goals. My best advice to someone just wanting to enter the design and engineering field would be to find mentors. The master and apprentice structure of passing on knowledge is incredibly powerful and underutilized in our modern form of education. Take advantage of the wealth of knowledge the most experienced in your field has to offer, keep approaching people until you find one that will take you under their wing, and show you the ropes.  
How did you get involved with the Nautilus Exploration Program? How did you get on the ship?
For our Capstone Engineering Project at Camosun College, my team designed, prototyped and built a fully functional Remotely Operated Vehicle (ROV) from the ground up. This included designing all of the electronics, control systems, and the mechanical structure. This direct experience in ROV design and ROV piloting was an incredible opportunity to learn about multidisciplinary engineering and lead me to look for other prospects to learn more about oceanic engineering. When I learned about Ocean Exploration Trust from my school's Co-Op office, it felt like the universe was handing me exactly what I was looking for, a fabulous combination of ROV engineering, video production and travel all in one amazing opportunity.  
Expeditions
Josef participated in the following Ocean Exploration Trust expeditions: