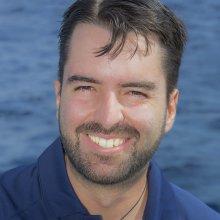 Jorge Rafael Berm dez Monsalve
Science/Data
Lecturer
Escuela Superior Politécnica del Litoral
Rafael Bermúdez is a Lecturer at Escuela Superior Politécnica del Litoral, in Guayaquil Ecuador. Rafael is interested in the bacterial and viral diversity at the eastern equatorial Pacific, where the Humboldt and Panama currents meet. He has also worked on the effect of Ocean Acidification in the biomolecular composition of primary producers and its concomitant influence in food webs at the GEOMAR Research Center in Kiel, Germany. He also worked in the effect of riverine inputs in the primary productivity of the southern part of the Humboldt Current System at the EULA Center in Concepción, Chile.
2003-2006: Bachelor degree in Marine Biology; University of Concepción, Chile.
2006-2007: Professional title in Marine Biology (Faculty Award for the best graduate student), University of Concepción, Chile. Thesis: "Primary productivity and autotrophic biomass in relation with inorganic nutrients and river inputs in the Concepción upwelling system, central Chile".
2008-2010: Master of Sciences, mention in Biological Oceanography at the GEOMAR|Helmholtz Centre for Ocean Research in Kiel. Thesis: "C:N:P ratios and fatty acids in diatoms and its influence on copepods development"
2011-2014: Doctoral degree (Magna Cum Laude) at the GEOMAR | Helmholtz Centre for Ocean Research in Kiel under the supervision of Dr. Ulf Riebesell and Dr. Monika Winder. Thesis: "Primary producers and future ocean scenarios: Effect of environmental variation on its macromolecular composition and consequences for higher trophic levels".