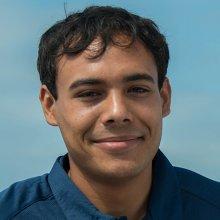 Jordan Caress
ROV Engineering Intern
Undergraduate
University of California - Davis
Tell us about your work / research. What kinds of things do you do?
I am going into my fourth year of studying electrical engineering at UC Davis. The majority of my experience and interest involves marine technology, but I really enjoy both designing and operating any type of robot. Last summer I spent a couple of months helping to maintain and operate Dorado class AUV's at MBARI. This summer I am fortunate to be on the Nautilus. This next school year I will be participating in a research project involving quadcopter UAV's.
What sparked your initial interest in your career?
I participated in MATE ROV competitions from sixth grade through high school, and these really introduced me to engineering and got me interested in ROV's. I loved the challenge of designing and building robots that function underwater. Ever since those first competitions I have dreamed of getting to work with full sized vehicles.
Who encouraged you or influenced you the most?
My parents have always encouraged me to pursue my dreams. They have gone to great lengths to give me the opportunities that I have today, and I do not know where I would be without them. In addition, Hans Thomas, Thom Maughan, and Bill Kirkwood of MBARI have all taken the time to mentor me during internships. 
What element of your work / study do you think is the most fascinating?
I love doing work which integrates multiple disciplines of engineering, and that is why I love robotics. I find it fascinating how different electrical, and mechanical systems can be meshed together to produce beautifully complex machines like ROV's. I also really enjoy the challenge of working in a marine environment. It is not very easy to make electronics function reliably below 4000 meters of seawater.
What other jobs led you to your current career?
After graduating high school, I worked as a wilderness ranger at the Philmont Scout Ranch in New Mexico. Being responsible for teaching backpacking to groups of Boy Scouts helped me develop self-reliance. I have since had two summer internships at the Monterey Bay Aquarium Research Institute, which gave me some experience designing, maintaining, and operating autonomous robots.
What are your degrees and certifications?
I will complete a BS in Electrical Engineering in June 2017.
What are your hobbies?
I love surfing, running, fishing, hiking, skiing, and backpacking (really anything that gets me outside).
What advice would you give to someone who wants to have a career like yours?
Actively seek out opportunities, and don't be afraid to ask for help. If you are honest with people about your ignorance, most people are more than willing to help you learn.
Expeditions
Jordan participated in the following Ocean Exploration Trust expeditions: