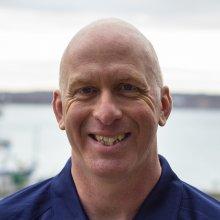 Jon Willis
Science Communication Fellow
Associate Professor
University of Victoria
Tell us about your work / research. What kinds of things do you do?
I am an astronomer and in my research, I use large telescopes to observe the distribution of galaxies and clusters of galaxies across the night sky. These observations help astronomers understand some of the "big picture" questions associated with our Universe: How old is it? How big is it? Where did all of this "stuff" come from? Through my astronomy, I have also become very interested in astrobiology, the search for life beyond Earth. This, in turn, has led me to explore locations on Earth - such as deep-sea hydrothermal vents - that provide some hint as to where to look for life in our Solar System.
What sparked your initial interest in your career?
It was really university that got me switched on to astronomy. I did a physics and astronomy degree (which also means I did a lot of maths classes as well) and time after time it was the astronomy questions and ideas that I kept coming back to. Graduate school gave me the opportunity to keep answering these big questions and that, coupled with my first trips to major observatories, made me realize I just couldn't see myself taking any other path with my career.
Who influenced you or encouraged you the most?
My undergraduate university professors were a great source of inspiration. It was here that I first saw people whose whole job was to observe both nature and the universe around us, work out which bits interested them the most, and seek answers. 
What element of your work / study do you think is the most fascinating?
My favorite part of my job is the collection of primary evidence, whether that be photons from a distant galaxy recorded on an electronic detector, ancient fossils from remote rock outcrops, or samples of microbes from a hydrothermal vent. Each time it feels like I have picked up a single piece of a very large puzzle and I get to see where it might fit.
What other jobs led you to your current career?
Becoming a university professor can involve quite a narrow career path. Following graduate school, I worked as a post-doctoral researcher at a university in Chile before spending a year as a science fellow at the European Southern Observatory, also in Chile. During this three-year period, I think I used every large telescope in Chile and it really broadened my horizons both in terms of professional experience and cultural exposure. Following Chile, I moved to the University of Victoria as an assistant professor where I teach classes, perform research and engage with outreach.
What are your degrees and certifications?
I have a Bachelor of Science in Physics and Astronomy from the University of Glasgow in 1995 and a Ph.D. in Astronomy from the University of Cambridge in 2000.
What are your hobbies?
My family and I love the ocean and we snorkel wherever and whenever we get the chance. We have a 15-foot canoe for exploring our local islands and I have a small power boat in which I fail to catch fish.
What advice would you give to someone who wants to have a career like yours?
I am very fortunate that in my profession I get to mentor and train students of all ages and experience: middle- and high-school, undergraduate and graduate. The one constant quality I see in those that succeed is the passion for their subject. Yes, you do have to do a lot of physics and maths, though you do not have to be the best or smartest in any one area. But a passion for your pursuit is what will really drive your career and the opportunities you have for success.
How did you get involved with the Nautilus Exploration Program? How did you get on the ship?
I applied for the Science Communication Fellowship after seeing a poster up in my department. In fact, at first I didn't think I had the right background for an SCF so I emailed the team and they encouraged me to apply. I was interested in the opportunity to join a scientific cruise, to the deep-seat deep sea environments and the scientist who study them, and this has so far proved to be all that I hoped for (and more!).  
Expeditions
Jon participated in the following Ocean Exploration Trust expeditions: