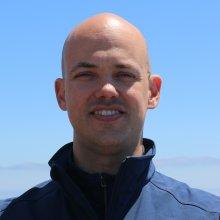 John Waterston
Science/Data Team
Program Manager
Defense Advanced Research Projects Agency (DARPA)
Tell us about your work / research. What kinds of things do you do?
I as a program manager in the Strategic Technology Office (STO), I am interested in demonstrating the next breakthroughs in maritime autonomy, undersea warfare, distributed sensing, and non-traditional communications. I have led defense research programs in various technical areas to include cyber warfare, Arctic sensing, and unmanned vehicles. I also serve as a commander in the U.S. Naval Reserves, where I apply my submarine operational experience to support naval warfare systems integration.
What sparked your initial interest in your career?
I have always wanted to be an engineer because I desire to understand how things work and then make them better. In today's digital world, being an electrical engineer is key to understanding everything from internet connected light bulb to your wireless charging toothbrush. 
Who influenced you or encouraged you the most?
I had exceptional teachers in Latin and Physics, while very different topics, both taught me to enjoy learning outside the classroom and figure out how information surrounds you in the everyday world.
What element of your work / study do you think is the most fascinating?
When I have been told that something is impossible, and then find someone who shows me a new way to solve that same problem in a new way.
What other jobs led you to your current career?
Over 12 years in the Navy, where I lived on three different submarines and learned to operate a nuclear reactor.
What are your degrees and certifications?
Bachelor of Science degree in electrical engineering from the United States Naval Academy and a Master of Science degree in electrical engineering from Stanford University.
What are your hobbies?
Leading my 3 sons and over 50 other elementary age cub scouts as they learn about have fun in and caring for the outdoors.
What advice would you give to someone who wants to have a career like yours?
Find an area that interests you, while surrounding yourself with people that challenge you to be the best you can!