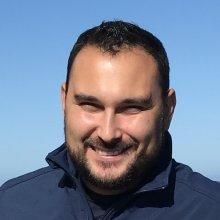 Joe Pawlenko
Data Engineer
Data Engineer
OET Contractor
Tell us about your work/research. What kinds of things do you do?
I specialize in IT support and data management. Working in IT is an exciting field for me because it allows me to step into any arena, whether it's on a ship managing data from the depths of the ocean or supporting systems that mitigate flight congestion used by the Federal Aviation Administration (FAA). I also enjoy problem-solving and playing detective when reading through computer logs and code to fix an issue.
What sparked your initial interest in your career?
My interest in technology started as a child, my father is a mechanical engineer with over 100 patents to his name. His work at Bell Labs was fascinating and I enjoyed visiting and seeing the latest technological advancements.
Who influenced you or encouraged you the most?
My parents have always encouraged me to never settle for less than my best and to especially never give up. Now married, my wife Jessie has become one of my biggest cheerleaders and much of what I've accomplished would not have been possible without her support. I'm extremely blessed to have the support and encouragement of my family
What element of your work/study do you think is the most fascinating?
When I was supporting the FAA's Traffic Flow Management System I took a call from an Air Traffic Control facility needing immediate IT support because the facility had Air Force 1 approaching and their TFMS data was not updating. From my Linux command line, I logged into the facility's Linux server running TFMS and corrected the issue successfully within 1 minute. This was an exciting and rewarding moment.
What other jobs led you to your current career?
Oddly enough, my career in IT started because of my acting career. I graduated from the University of Pittsburgh with a degree in Film Studies and worked as a Project Manager on many film sets, one film project even earned a Telly award. I became an actor and eventually got my big break when I landed a role in the film titled Adventureland acting alongside Hollywood mainstays such as Jesse Eisenberg and cast members from Saturday Night Live gaining my entrance into the Screen Actor's Guild (SAG), something I wanted to achieve for a long time. During a transitional phase in my film career, I had an opportunity to work for the FAA performing technical installations. The opportunity arrived from an IT recruiter who happened to be a fan of a Bollywood film that I had a small role in. While traveling the country for the FAA I discovered that I really enjoyed IT. Eventually, I was trained in Linux and offered a position supporting the FAA's Traffic Flow Management System (TFMS) fulltime from an operational Linux data center called the TFMS Production Center (TPC) which helps to mitigate National Airspace System (NAS) congestion. Fueled by a new passion working in IT, I went back to school and earned a masters degree in IT Management. I have held many titles working in IT and am currently a Systems Engineer for DTIS LLC supporting the FAA's Terminal Flight Data Manager (TFDM) system, which will support Surface Management and is estimated to reduce carbon emissions by 3 million metric tons saving an estimated 313 million gallons in fuel during its lifetime.
What are your degrees an certifications?
M.A. Information Technology Management - Webster University 2018
B.A. Film Studies - University of Pittsburgh 2009
What are your hobbies?
I love being a new dad and spending as much time as I can with my son Noah. I look forward to sharing many of my favorite hobbies with him, like cooking and trying to reproduce recipes from chef Marco Pierre White. Other hobbies I enjoy include spending time on the beach with my family and going fishing. Next to that, I also like to dabble in screenwriting and acting when possible.
How did you get involved with the Nautilus Exploration Program?
Being a fan of ocean science, I had already known of the Nautilus and the important discoveries Dr. Ballard has made with his team and took notice when a data engineer position opened on OET's website. It is a dream come true to sail on this incredible ship with its amazing crew.
What advice would you give someone who wants to have a career like yours?
My advice to anyone wanting to have a career similar to mine is to stay true to yourself. Once you figure out what it is you want your career to be, chase after it and learn everything you can about it. Technology is always changing and it's a field where you need to constantly study. There are so many different directions to choose when it comes to IT and the more you learn the more clear your path will become. Lastly, I would suggest perseverance and be grateful to everyone in your profession who is willing to be a mentor and share their expertise.