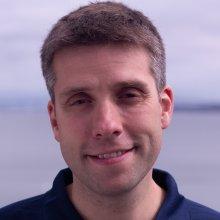 Joe Grabowski
Science Communication Fellow
National Geographic Fellow/Science Teacher
National Geographic
Tell us about your work/research. What kinds of things do you do?
I'm a science and math teacher in Guelph, Ontario. Three years ago I founded a nonprofit called Exploring by the Seat of Your Pants, with a goal of bringing science, exploration, adventure, and conservation into classrooms across North America through virtual speakers and field trips. We've run over 700 events connecting over a hundred thousand students with scientists and explorers from over 50 countries. After becoming a 2017 Emerging Explorer with National Geographic and then their first Education Fellow, I founded Explorer Classroom, running virtual events with National Geographic Explorers and using portable satellite technology to broadcast into classrooms from the most remote regions of the planet.
What sparked your initial interest in your career?
I spent 2017 working and traveling in Australia, it was during this time that I realized I wanted to share my passions for science and our natural world with future generations, particularly what we are doing to our planet. After a couple years of teaching, I realized I wasn't having the impact and reach that I wanted, which lead to the founding of Exploring by the Seat of Your Pants and other projects.
Who influenced you or encouraged you the most?
I grew up watching Jacques Cousteau and David Attenborough documentaries, they had a big impact on my desire to explore, teach and share.
What element of your work/study do you think is the most fascinating?
I get to meet some pretty amazing people all over the world and then share their stories, research, and adventures with students all over the world. I learn a lot and have an opportunity to show students every day that there is so much left to explore and discover.
What other jobs led you to your current career?
I taught science and math in the classroom for 6 years before founding Exploring by the Seat of Your Pants. This provided a wealth of experience from developing curriculum to planning lessons, all of which have been of great benefit the last few years as I've grown and developed Exploring by the Seat of Your Pants and Explorer Classroom.
What are your degrees and certifications?
Bachelor of Science Honours in Biological Sciences - University of Guelph 2008
Bachelor of Education - Nipissing University 2010
What are your hobbies?
I love scuba diving, I've been diving for over a decade now in some pretty cool places all over the world. Along with traveling to new places, I enjoy wakeboarding in summers at our family cottage in Northern Ontario.
What advice would you give someone who wants to have a career like yours?
The advice I'd give to anyone is to go after the career you want, something you're passionate about and will make every day enjoyable. Too many people let doubts creep in and talk themselves out of taking risks, settling for a career they don't love. My other advice is not to be afraid of failure, everyone makes mistakes and they are pretty important for personal growth. Mistakes are awesome learning opportunities to build from and try again.
How did you get involved with the Nautilus Exploration Program?
I learned about the Science Communication Fellowship when I met Bob Ballard at National Geographic's Explorers Fest in 2017.