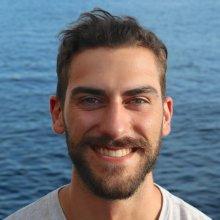 Joe Farrugia
Science/Data Team
Geophysicist, Junior Staff Scientist
Ocean Networks Canada, University of Victoria
Tell us about your work/research. What kinds of things do you do?
I specialize in seismology, a multifaceted branch of geophysics that involves the study of earthquakes. At Ocean Networks Canada, my primary tasks are pre-deployment ocean-bottom and terrestrial seismometer calibration testing, earthquake ground motion data processing and management, and assisting with instrument deployments. Data collected from seismometers develop our understanding of plate tectonic processes, earthquake-related hazards (ground shaking, tsunamis, landslides, etc.), the internal structure of our planet, and more.
What sparked your initial interest in your career?
I took my first Earth and Space Science course in my senior of high school; I remember it being the course I looked forward to the most during the week. Prior to post-secondary, I had no idea people made a career out of geophysics, and so I attended Western University in London, Ontario, intent on becoming a Civil Engineer. After taking one Earth Science course in my freshman year, I became enthralled by the natural world. Coming from Toronto, I'm humbled by the natural beauty that the west coast has to offer, and constantly convinced this is one of the best places to work as a seismologist. Perhaps one of the most fascinating geologic features lies just off the coast of Vancouver Island, unseen and enigmatic: the Cascadia subduction zone.
Who influenced you or encouraged you the most?
I had some incredible teachers, coworkers, and friends that were very encouraging and provide sound advice at critical junctions in my career path; a path that is certainly always evolving.
What element of your work/study do you think is the most fascinating?
Currently, the most fascinating part of my work is my involvement in the instrumentation of the Cascadia subduction zone and beyond to Juan de Fuca Ridge, ~2,000 meters below the ocean surface.
What other jobs led you to your current career?
Perhaps one of the greatest perks of working as a geoscientist, are the places the work opportunities you get will take you. I've had the privilege of working with some incredible like-minded individuals in some spectacular places. My first job came at the end of my second year, I was as an exploration geologist working for a mine in northern Ontario mapping outcrop from ATVs and core logging. Another summer, I worked for the Alberta Energy Regulator - here I traveled across the province of Alberta installing seismic stations and caught my first glimpse of the Rocky Mountains. I expanded my skill set the following summer when I seized an internship opportunity with Husky Energy in Calgary, Alberta. It was here that I learned the importance of interdisciplinary collaboration. As a graduate student, I specialized in seismology and conducted fieldwork all over Alberta with the goal of characterizing seismic site conditions and ground motion site amplification. I worked another summer as a seismic station deployment technician for Natural Resources Canada. I spent a month in beautiful Haida Gwaii, British Columbia, installing seismic stations at the tops of mountains. Each opportunity proved transformative in some way, making the path forward a little clearer.
What are your degrees and certifications?
Bachelor of Science in Geophysics -- Western University, London, Ontario, Canada (2015); Master of Science in Geophysics -- Western University, London, Ontario, Canada (2017)
What are your hobbies?
When I'm not hiking, exploring remote areas, snowboarding, kayaking, playing Frisbee golf or beach volleyball, you'll usually find me in the mood for low-key hangouts around the bonfire with some acoustic guitar, or nights in playing video games or board games with friends.
What advice would you give someone who wants to have a career like yours?
As I've only just embarked on my career path, the soundest advice I can offer at this point is pretty general. Trust your instincts: especially in this line of work, don't be afraid to make a decision that takes you out of your comfort zone, i.e., spend a summer in a remote area of the world, branch out from your field, diversify your skill set, move across the country for a great job opportunity. Personally, I've benefited from a diverse employment and course history and would assert that the most successful geophysicists are those that can communicate well with professionals in other disciplines, especially engineers and geologists. Your greatest asset is those that have come before you: finding work in your field as a student is a huge bonus, so don't be afraid to ask your teachers what summer opportunities they might have knowledge of that could be a good fit for you. Be open-minded: Encourage criticism, learn from your peers and your predecessors. Mostly, rest assured that you've decided to enter into possibly one of the most fun, enriching, and close-knit communities there is--the geoscience world is a small one, so expect to bump into someone you've met at a seismological conference, more than once, years later down the road at some unrelated social event halfway around the world; you'll make some of the best friends and memories along the way. Oh, and hold on to those textbooks. They'll come in handy.