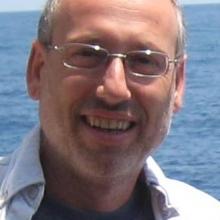 Joan B Company
Marine Biologist
Marine Science Institute of the Spanish Research Council
Joan is one of the biological observers onboard the E/V Nautilus.
Joan is a senior scientist at the Marine Science Institute of the Spanish Research Council in Barcelona. He works on decapod crustaceans studying their ecological dynamics. He also conducted studies on comparative biology and ecophysiology of deep-sea crustaceans.
Joan graduated from Barcelona University in 1991 with a degree in Biology and from Perpignan in Oceanography and completed his Ph.D in crustacean ecology at the Ecology Department, University of Barcelona in 1995.