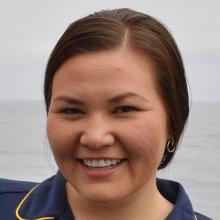 Jessica 'Qátuw̓as Brown
Educator, Data Logger
Indigenous Community Liaison
Ocean Networks Canada
Tell us about your work/ research. What kinds of things do you do?
Jessica works to build mutually beneficial relationships between Ocean Networks Canada (ONC) and Indigenous communities. She is working to Indigenize ONC through an education and outreach platform by including Indigenous perspectives into both ocean science procedures and ocean science learning materials.
What sparked your initial interest in your career?
Jessica spent her most treasured moments exploring Heiltsuk lands and waterways with her family and community sparking her interest in Natural Resource Management at the University of Victoria.
Who influenced you or encouraged you the most?
Jessica's parents, family, and community continue to encourage her to work to bring Indigenous perspectives into ocean science.
What element of your work/ study do you think is the most fascinating?
Jessica has a fascinating job allowing her to work along side scientists, educators, engineers to bring ocean science into coastal communities along British Columbia's coast.
How did you get involved with the Nautilus Exploration Program?
I work with Ocean Networks Canada- an OET partner.
What other jobs led you to your current career?
Jessica has been presented many opportunities from field technician with Raincoast Conservation Society to Events Coordinator with Tribal Journeys an Indigenous ocean-going canoe journey. She also has held numerous positions at the University of Victoria with the Office of Indigenous Affairs. Jessica currently sits on the board of directors of RAVEN: Respecting Aboriginal Values and Environmental Needs.
What are your degrees and certifications?
Bachelor of Arts in Environmental and Indigenous Studies minor Social Justice Studies specializing in Natural Resource Management -- University of Victoria 2015
What are your hobbies?
Jessica is a lover of land, people, and place. Her favourite activities are canoeing, camping, hiking, and hanging out by beach fires with wonderful company.
What advice would you give someone who wants to have a career like yours?
Learn with an open heart and open mind and create your own opportunities.