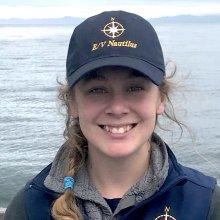 Jessica Kaelblein
Video Engineering Intern
Production Assistant
Inner Space Center
Tell us about your work/research. What kinds of things do you do?
I recently graduated from the University of Rhode Island with a Bachelor of Science degree in Wildlife and Conservation Biology. With this and plenty of experience in filmmaking, I found myself at the Inner Space Center as a production assistant. My responsibilities include editing footage from various research projects done by our staff and partners from all around the world and helping classrooms and museums connect to research vessels at sea through live telepresence. I also go to sea to get behind the camera and film scientists and students as they conduct their research. Occasionally, I have been found in front of the camera, sharing my knowledge of wildlife and its importance with the public.
What sparked your initial interest in your career?
It was a complex and winding road before a clear interest developed for me. I was raised in a family that loved the outdoors and loved animals. Originally planning to pursue a career in fashion, I chose to attend URI as an undeclared student to decide which of my two passions (art or science) were stronger. When I took my first Animal Veterinary Science class at the experiential farm on campus, I was hooked. I pursued a degree in Animal Management until I decided I wanted a broader education. That was when I switched to Wildlife and Conservation Biology and continued to enjoy experience-based classes. I then took a study abroad class in Belize to learn how to make documentary films. After that trip, I spent the rest of my college career trying to figure out how to merge my two newfound passions: wildlife and filmmaking. 
Who influenced you or encouraged you the most?
I have had a lot of great supporters in my life. My first camera was a gift from my brother, and I have been using it for every job I have had for the last four years. My parents always encouraged me to follow my heart even if my path was atypical from the rest of society. However, I think I owe a lot of thanks to my professors, who saw the potential and passion in me and helped direct me to so many different opportunities that lead to where I am today. I definitely could not have done any of this without their help and encouragement.
What element of your work/study do you think is the most fascinating?
The most fascinating part of my job is finding the connections, both in nature and in society. Every life form has a purpose on this planet, and every life form has an effect on some process in life. As I study one animal or ecosystem, I meet scientists who study other topics and discover the two are totally intertwined. As a filmmaker, I may see something that I helped edit making its way across social media or television, and it is very exciting to know that that story is making its way around the world sharing knowledge and connecting people.
What other jobs led you to your current career?
My life has been filled with exciting and interesting jobs. The first was spent on the Oliver Hazard Perry, Rhode Island's tall ship, as a deckhand. This was my first experience ever working on a ship and being at sea. I declared myself their official videographer and constantly collected footage of all the cruises and students. I absolutely loved the adventure and thrill of sailing. Most of the other jobs, however, were volunteer positions with US Fish and Wildlife tagging birds, Mystic Aquarium as a diver and rescue clinic staff member, and as a Coastal Fellow field technician studying American Woodcock. 
What are your degrees and certifications?
Bachelor of Science in Wildlife Conservation Biology with a Minor in Animal Science- University of Rhode Island; CPR and Outdoor Emergency Care Technician; American Academy of Underwater Science SCUBA certified
What are your hobbies?
As I mentioned before, I grew up in an outdoorsy family. I love to go backpacking, skiing, rock climbing, and scuba diving. But when I'm inside I love to just hang out with friends, go country line dancing, or dress up in fun costumes. 
How did you get involved with the Nautilus Exploration Program?
I applied for the Science & Engineering Internship Program after hearing of a co-worker who was lucky enough to be a video engineer intern for OET a few years ago.
What advice would you give someone who wants to have a career like yours?
Never take no for an answer. I ended up taking a very odd path to where I am now, and many times I was faced with obstacles because that was not the way things were done. With perseverance and confidence in my passions, I was able to create a strong network and find a way that worked for me. Always make connections, take opportunities that come to you, and don't be afraid to step outside of your comfort zone, because you never know what magical moment lies just around the corner.
Expeditions
Jessica participated in the following Ocean Exploration Trust expeditions: