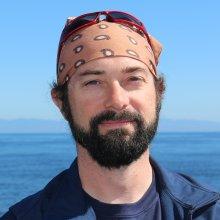 Jeremy Taylor
Science/Data Team
Adv Tech Developer
Research Corporation of the University of Hawaii/National Oceanic and Atmospheric Administration
Tell us about your work / research. What kinds of things do you do?
I develop technology to be used by scientists in the marine field. I have had the opportunity to work with autonomous and remotely operated underwater vehicles (AUV/ROV), multibeam, stereo camera systems, and oceanographic sampling equipment. Currently interested in autonomous surface vehicles as a means to collect optical and acoustic data in shallow water environments.
What sparked your initial interest in your career?
I knew that I wanted to work on or near the ocean and I have a passion for evolving technologies. Working with AUV/ROV's and NOAA, I have been able to fulfill both those interests.
Who influenced you or encouraged you the most?
My uncle who gave my family our first computer. The adventure started there and really has not stopped.
What element of your work / study do you think is the most fascinating?
The development of automation. From vehicles to analysis, we are able to study more environments and pattern in data faster than ever before.
What other jobs led you to your current career?
Before I was a tech I had the opportunity of being part of a ship's crew. From deckhand to engineering, I was able to experience a life at sea for many years. This lead me to want to become more involved with the science being collected aboard ship.
What are your degrees and certifications?
Bachelor of Science in Life and Computer Science from Cornell University 1999.
What are your hobbies?
I am one of the co-founders of HiCapacity hackerspace and enjoy everything from 3D printing to beer making.
What advice would you give to someone who wants to have a career like yours?
Follow your passion. It's cheesy but it works.