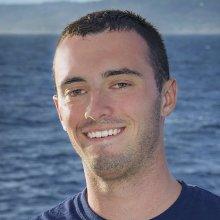 Jeremiah Sullivan
ROV Engineering Intern
Undergraduate
University of Rhode Island
Jeremiah Sullivan is an undergraduate student in the Ocean Engineering program at the University of Rhode Island. He is interested in underwater acoustics. He also works in a machine shop on campus, and has had the opportunity to work on many unique engineering projects. While not working or studying, he enjoys SCUBA diving or rowing on the URI Men's Crew Team. 
Jeremiah Sullivan Graduated from King Philip High School in 2013, and proceeded to the University of Rhode Island, where he is currently a junior studying Ocean Engineering and Italian, through URI's International Engineering Program.
""All you need in life is an open mind and a bright flashlight." -- I guess I'm just trying to build a brighter flashlight." 
Expeditions
Jeremiah participated in the following Ocean Exploration Trust expeditions: