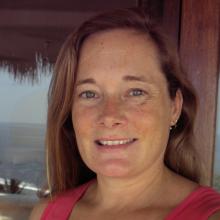 Jenny Waddell
Science/Data Team
Research Coordinator
NOAA's Olympic Coast National Marine Sanctuary
Tell us about your work/research. What kinds of things do you do?
As research coordinator, I get to work with experts from a variety of disciplines and facilitate scientific inquiry within Olympic Coast National Marine Sanctuary. Our focus has been on monitoring changing ocean conditions, and we have documented issues with ocean acidification, de-oxygenation, marine heatwaves, and harmful algal blooms that are quite concerning. We also monitor ocean sound and a variety of species and habitats that live on the Olympic Coast, often in cooperation with representatives of sovereign tribal communities that have lived here for at least 10,000 years.
What sparked your initial interest in your career?
An abiding love and respect for our oceans and all their fascinating creatures.
Who influenced you or encouraged you the most?
I've had the good fortune to work with many inspiring and encouraging colleagues at NOAA since I started a fellowship there in 2001, and I'm continually inspired by the amazingly collaborative ocean science community here in the Pacific Northwest.
What element of your work/study do you think is the most fascinating?
Thanks to the support of NOAA's Deep Sea Coral Research and Technology Program, we've been engaged in a multi-year deep sea coral and sponge initiative on the west coast that is supporting a whole suite of efforts, including significant work with ROVs and consistent analysis of standardized quantitative video transects that will allow scientists to compare habitats across time and space. We're also documenting new species and range extensions, which is very exciting.
What other jobs led you to your current career?
I've always had careers focused on the natural world--working as a wildlife biologist, scuba divemaster, and a volunteer coordinator with a marine conservation group--before joining NOAA's National Centers for Coastal Ocean Science in 2001. Since then I've been involved with national and international efforts to map, monitor and study threats to coral reef ecosystems and ran a research and conservation grants portfolio prior to joining Olympic Coast National Marine Sanctuary in 2016.
What are your degrees and certifications?
I hold a BS in Conservation and Resource Studies from UC Berkeley and a masters degree in marine policy from the University of Washington.
What are your hobbies?
Lately I've been harvesting the fruits of my labor, literally! Plums, pears, raspberries, peaches and other edibles that have received a bit more attention this spring.
What advice would you give someone who wants to have a career like yours?
Reach out to people who are in positions of interest to you and ask them about opportunities or internship programs. Be patient and persistent and keep working towards your goals over time...all that effort adds up!
How did you get involved with the Ocean Exploration Trust? How did you get on the ship?
OET and NOAA's National Marine Sanctuaries have collaborated for several years, most recently through a cooperative agreement award to expand telepresence and public access to our shared ocean heritage. I first became involved during a 17-day cruise to Olympic Coast National Marine Sanctuary, less than a year after I started in this position. I learned a lot from my collaborators at NOAA's Northwest Fisheries Science Center, the Quinault Indian Nation, and of course the staff and crew of OET and Nautilus!
Expeditions
Jenny participated in the following Ocean Exploration Trust expeditions: