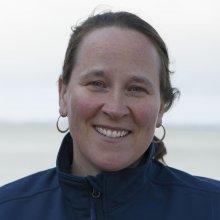 Jennifer Stock
Communications / Science/Data Team
Education and Outreach Coordinator
NOAA/Cordell Bank National Marine Sanctuary
Tell us about your work / research. What kinds of things do you do?
As an education and outreach coordinator for Cordell Bank National Marine Sanctuary, I specialize in bringing the remote, offshore sanctuary to people on land through a variety of education and outreach efforts. I work to increase ocean and climate literacy in primarily coastal communities bordering the sanctuary, but also beyond through the context of the unique assemblage of biodiversity within the Cordell Bank National Marine Sanctuary. Through exhibits, outreach, curriculum, teacher training, and more I love to share the unseen to inspire curiosity, wonderment, and care for our ocean. 
What sparked your initial interest in your career?
At a young age, I developed a love for nature and the interconnections between humans and ecology. My family spent time at the beach, camping, exploring and spending time on boats. I developed my love for salt water then. After studying biology undergraduate and working seasonal jobs as a National Park Service interpreter, I discovered my passion for educating others about our amazing ocean planet and have followed that passion through all my jobs, including my current position with NOAA/Cordell Bank National Marine Sanctuary. 
Who influenced you or encouraged you the most?
My parents encouraged me to follow my passion through education and career. Some of my early supervisors were wonderful mentors that showed me how to boost my skills. 
What element of your work / study do you think is the most fascinating?
One of the things I find so fascinating about my work, is we are still discovering the ocean life that we are working to protect. I like the mystery and the challenge of studying the ocean environment and the built in challenges to studying the Cordell Bank region. I also love meeting people who had no idea and are blown away when they learn what tremendous biodiversity we have just miles off the Marin/Sonoma Coast. 
What other jobs led you to your current career?
My career started with the great opportunity to work as a seasonal interpreter for Fire Island National Seashore/National Park Service. After a few more summers as a seasonal interpreter there and as Assateague Island National Seashore, I headed west to teach environmental education with Guided Discovers Inc, both at Astrocamp and at the Catalina Island Marine Institute (CIMI). At CIMI I really got into the ocean and was in it pretty much every day and gained observation skills by being able to observe marine life daily and witness variability daily and annually. I also taught at Nature Bridge, Headlands Institute where I was able to build out my curriculum planning and program delivery skills. Each step of the way I built on my communication, planning, group management and curriculum planning skills. I enjoyed working the "seasonal life" for many years to meet lots of people who continue to be part of my education network. 
What are your degrees and certifications?
Bachelor of Arts- the University of Delaware-1995, Masters of Science-Education-Dominican University-2010, Certified Interpretive Guide- National Association of Interpretation, National Network for Ocean and Climate Change Interpretation Alum, Certified NAUI SCUBA Diver, Red Cross CPR, Wilderness Institute-Wilderness First Aid/NOLS
What are your hobbies?
I am a gardener and enjoy growing food for my family around our small property, as a water lover, I love to swim and boogie board, and explore "mellow" bodies of water with my family in our 15 food Catalina Wherry and knit!
What advice would you give to someone who wants to have a career like yours?
I often talk with younger folks about my career and focus on telling the story of following my personal passions. I would not be where I am today without networking early on and sharing what it is I am looking to do with others and asking their advice. By following my personal passions, I am able to put enthusiasm into my career which allows me to do my job well. Explore what you love, get out there and do it, volunteer, talk and meet with experts in the field you're interested in. Networking online is one thing, but meeting real people face to face is another and cannot be replaced! Most importantly though is to not let go of your vision for what area you thrive in. 
Expeditions
Jennifer participated in the following Ocean Exploration Trust expeditions: